Blockchain & Voting Public Discussion
April 8, 2021 @ 11:00 am

-

1:00 pm

EDT

Free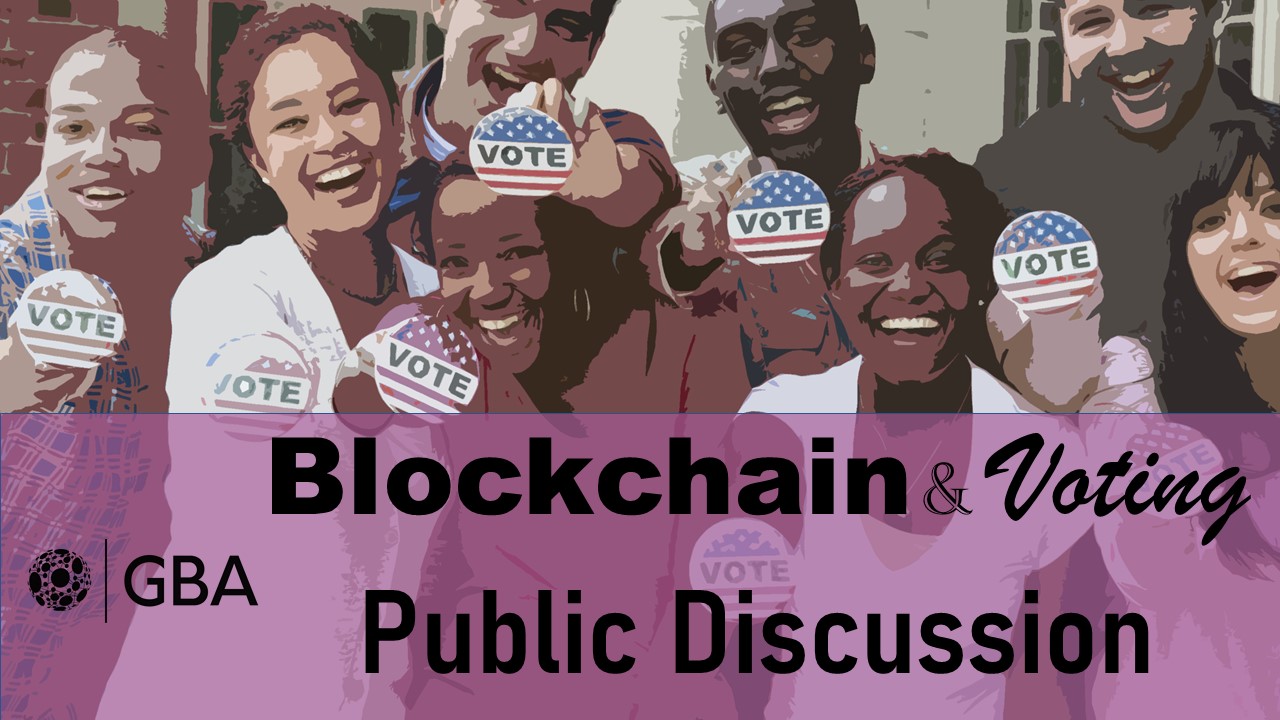 ---
---
This is a follow-up meeting to the March 4th Blockchain & Elections online discussion. You can see the recording by clicking the hyperlink. We will be reviewing the points made during the March 4th public meeting and will begin outlining what should be included in standards for remote voting secured by a blockchain.
Speakers Include:
Amelia Powers Gardner – Ms. Powers Gardner serves as the elected Utah County Clerk and Auditor. In that capacity she is the Chief Elections Officer, overseeing all elections in the county, including logistics, tabulation, and reporting. She is a winner of the 2020 GBA Achievement Award. She has implemented the first election system using blockchain in the United States. She has also implemented a marriage license solution using blockchain technology.
Gilles Mentre'  – Mentre' is the President of Electis, located in Paris, France. After 10 years in government (including 2 years as an advisor to President Sarkozy) and 7 years as a managing director at Lazard, Mr. Mentre' cofounded Electis, a non-profit do-tank promoting next-gen e-voting, including blockchain voting. In parallel, he is pursuing a PhD in blockchain voting at the CRI-Paris Université. He has a professional and academic focus on blockchain uses in elections and voting.
Jeremy Epstein – Mr. Epstein is a Program Director at the National Science Foundation (NSF). His program responsibilities include Designing Accountable Software Systems (DASS);
Secure and Trustworthy Cyberspace (SaTC);  Computer and Information Science and Engineering (CISE); and Research Initiation Initiative (CRII). Dr. Epstein, has been a long-time member of our Board of Advisors of Verified Voting. He and has a deep background in election security, and knows blockchain issues well
John Sebes – Mr. Sebes is the Chief Technology Officer at the OSET Institute. He has over 30 years in the depth experience with cryptography, cyber, digital, and information security.  John is well known to the crypto community and has over 15 years of direct experience in the application of digital technology to the administration of elections.  He offers a unique vantage point of the intersection of the regulatory, technical, and policy issues impacting that application of blockchain technology to the casting and counting of ballots.  Additionally, John is studying the application of digital ledger technology to other election administration tasks with data sets such as voter registration and cast ballot records.  Incidentally, John works extensively with the U.S. EAC, NIST, the TDGC, DHS, CISA, and DoD/DARPA, as well as through our GR Team with members of Congress on matters of election security and technology.
Mitja Goroshevsky – Mr. Goroshevsky is the CTO of Ton Labs, an organization committed to building a truly decentralized internet that delivers security, trust, data ownership, censorship resistance, and privacy. He has been Creating software systems in distributed computing area for more than 20 years. He is the co-author of patents in serverless and blockchain space. He has developed Ripple and Ethereum -based systems before moving to TON to create first blockchain Operating System.
Susan Eustis – Ms. Eustice is the Chair of the GBA Voting Working Group and is the primary author of 656 studies in a series of primary market research reports that give market forecasts in elections, communications, telecommunications, the Internet, computer, software, telephone equipment, health equipment, and energy.
Philip Andreae – Mr. Andreae is an expert on electronic voting with a deep background in payments, authentication, and digital identity in a world of connected people, objects, and things. He has expertise with payment solutions including blockchain, "Chip and PIN", smart cards, chip cards, EMV, PCI, pre-paid, credit and debit cards to ACH, wire, and mobile.
---
This event is free. But, please register to attend.
DC Online Chapter Meeting
Related Events