Decentralized Identity For Telecom Sector (Online)
December 10, 2020 @ 9:00 am

-

10:30 am

UTC-5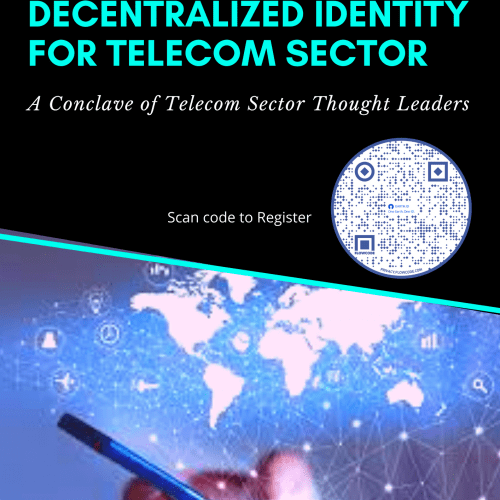 A digital identity conclave bringing together Industry Stalwarts from the blockchain space.
About this Event
With the general public increasingly aware of the importance of security and ethical management of personal data, the traditional centralized digital identity systems have been exploring new ways of the redesign. The trend is backed also by regulators through the release of directives PSD2, GDPR, PDPB, MiFID2, etc.
For businesses, this means onboarding friction, costly and complicated KYC processes, while maintaining regulatory compliance. On the other hand, the citizens suffer from multiple fragmented identities and mishandling of identity information.
This conclave will bring together industry leaders to discuss how emerging technologies, like distributed ledgers (blockchain), can be leveraged to solve the problems mentioned above.
Discover the power of Decentralized Identity in our Global Blockchain Conclave focussed on Decentralized Identity for Telecom Sector
Event Details:
Keynote on DID/SSI:
Scott Stornetta, Blockchain Pioneer, Chief Scientist at Yugen Partners
Mr. Stornetta is one of the founding fathers of blockchain technology. He co-authored a scholarly work with the first mention of a blockchain architecture in a 1991 publication. Satoshi Nakamoto's whitepaper, "Bitcoin: A Peer-to-Peer Electronic Cash System," cited Stornetta's work three times out of the eight references. The famous industry-defining white paper was essentially built on Stornetta's concepts about disrupting the fintech industry, as he has thought about blockchain technology for the last thirty years. Today Mr. Stornetta is the Senior Scientist at Yugen Partners, a private equity firm investing in companies leveraging blockchain technology. His institutional-quality approach ties together his blockchain-driven investment ideas, coupled with his seasoned investment process.
Telecom Panel Discussion :
Rajesh Dhuddu

, Blockchain & Cybersec Leader, Tech Mahindra

Shiv Aggarwal

, CEO, MyEarth.Id, GBA Europe Lead & UK President

Satyavathi Divadari,

Chief Cyber Security Architect, Top 20 Indian Women Security Influencer, CSA Chapter Chair

Piyush Sharma

,  

Executive-in-Residence at UCLA, Stanford SEED Consultant,global CEO coach and a C-Suite + Start-up advisor
Moderated by Gerard Dache: Executive Director, GBA
Closing Remarks:
Gerard Dache: Executive Director, GBA
Event Partners: