2023 Annual Achievement Awards
The Annual Achievement Awards Finalists Have Been Chosen!
Please look over the 3 Finalists per Award and choose one winner per each of the 4 awards.
You do not need to be a GBA Member to vote, so feel free to invite all your friends and family to participate. There is no charge for voting.  Only one submission per IP address will be counted as valid.
Winners will be announced from stage at the AAA ceremony, May 24, 2023, in Washington, DC. Winners do not need to be present to win. All finalists will be alerted that they made the finishing round and will be encouraged to come.
The last day to submit this form is April 15, 2023.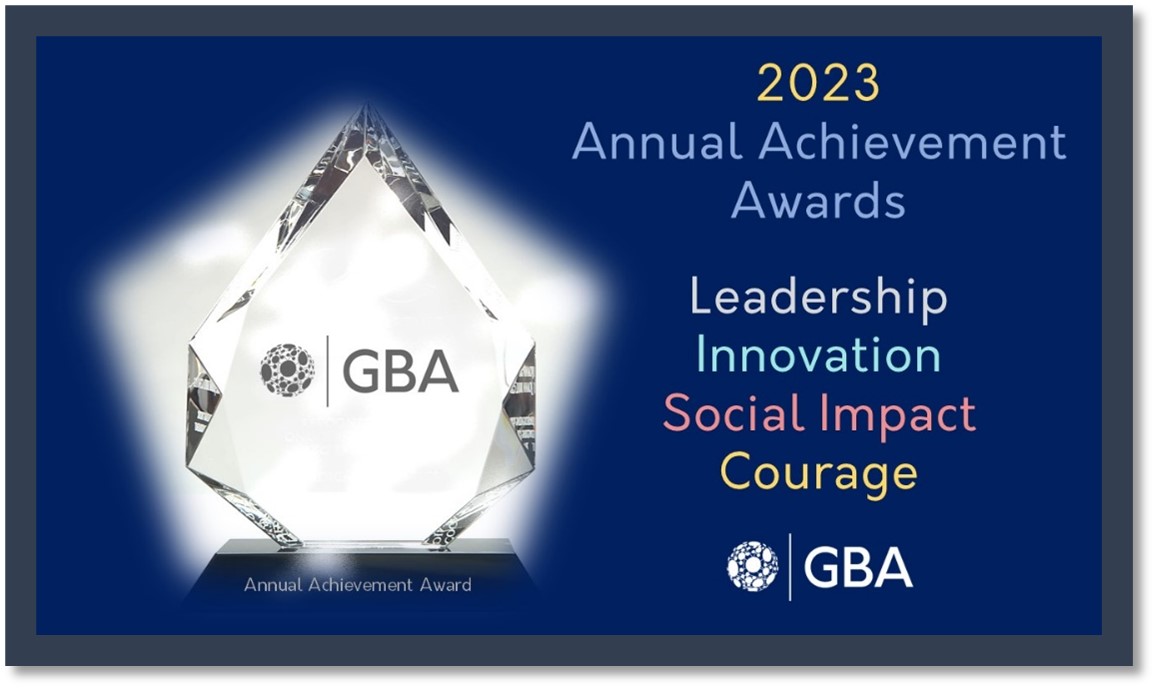 Sary Qasim –
MENA Chapter Lead – GBA
Has put together an exceptional team for GBA in the MENA region. He has pushed the agenda of BMM in an exceptional manner and has started a new disruptive partnership model between GBA and the associated chapters.
Cynthia Lummis –
Senator from Wyoming – US Senate
Writing, introducing, and spearheading the Responsible Financial Innovation Act. The act sets a level playing field between digital assets and traditional finance, all while the Federal Government continues to take a very negative stance.
Carole House –
Executive in Residence – Terranet Ventures
During her tenure in the White House, was the prime mover for President Biden's Executive Order 14067 ensuring the responsible development of digital assets. In my columns I have referred to this as the most consequential presidential action in technology since JFK gave his Rice University speech setting us on the course to the moon and back. Carole made sure that the White House set out a balanced approach to responsible development, meaning neither prejudicing blockchain and other emerging technologies with undue red tape nor letting the public interest go unprotected. It was a fine and consequential piece of work and recognizing her leadership in curating it could be very beneficial for future policy formulation regarding the adoption of blockchain platforms. Also, after retiring after ten years in the US Army with the rank of Major, and after her distinguished White House service, she has now entered the venture capital sector and remains a thought leader in the sector.
Michael Kanovitz – Founder – Jurat Blockchain
Exemplifies innovation. He has created technology that connects blockchains to state & federal courts – something that was previously impossible. Over the last year he has continued to innovate upon the technology to go beyond a Bitcoin fork and build tools that help creators create smart contracts, give NFT holders the ability to swap NFTs and offer cross-chain swaps. All with the ability to interface with a court in the event of a bad-actor or fraud.
Nimit Sawhney – Co-Founder, CEO- VOATZ
& his team at Voatz have pioneered the world's first election system that uses remote identity proofing, biometrics, and blockchain technology to enable end-to-end verifiable and accessible remote voting via smartphones and tablets. Voatz has conducted 117 elections serving more than 2.2 million voters so far. It is the only such system to have been used successfully by several governments and major political parties in 6 countries. In the US, the system was pioneered by the State of West Virginia in the 2018 mid-term elections. In 2020, Voatz became the first smartphone-app and blockchain based election system to be used in the US Presidential Elections (pioneered by several counties in Utah, and Oregon). In 2022, Voatz became the first such system to be used in Canadian elections when it was selected by 15 cities in Ontario for their Municipal Elections. In the face of numerous attacks and criticism, Nimit, his brother Simer and their team at Voatz have used their background in cyber, mobile security, high performance SAAS to courageously build, and implement an election system that provides an alternate voting method accessible to all citizens, is uniquely auditable, highly resilient and can survive, thrive in the presence of extreme threats.
Pradeep Goel – CEO – Solve.Care
Knew that blockchain would be a big revolution for technologies worldwide, but it hasn't had a great impact on healthcare, until now. Figures put the healthcare industry costs at approximately $9 trillion per year. In the US alone, this figure is at nearly $4 trillion. Due to the inefficiencies of healthcare systems the largest cost is administration.
With Solve.Care, Pradeep Goel didn't just want to address specific issues in the healthcare industry. Pradeep leverages blockchain and digital currencies to address the entire industry and all its shortcomings. He provides a full-stack blockchain platform where healthcare relationships and transactions are conducted effectively. Identity, consents, events, transactions, payments, and data sharing can be easily managed and tokenized in a seamless, automated, and autonomous manner.
Blockchain alone is not enough. Pradeep is addressing root causes, and changing healthcare data management at a base level. In current systems, all patient data is stored in the centralized servers of the stakeholders in healthcare except the patient. This has resulted in healthcare data being managed in silos. Solve.Care is changing this by putting data in decentralized nodes, that are owned and controlled by the individual patient. The patient is then empowered to take better control of their healthcare journey.
Jon Trask
–
CEO – Dimitra
Has led Dimitra through the past two years of growth to build and deliver technology that is changing the world of farming. Dimitra is on a mission to support small farmers globally to fight world hunger, reduce their environmental impact, reduce deforestation, increase carbon storage all while increasing crop yield, reducing costs, and mitigating risk. 
Dimitra's influence can be measured in several ways. From helping small farmers manage and report deforestation to comply with global deforestation regulations, to using artificial intelligence to help farmers make better decisions to be more effective in a world that is ravaged by climate change. From using satellite and IoT analysis to help manage and reduce soil degradation and increase freshwater efficiency to creating a crypto system that enables farmers to leverage their data to earn extra income.
The Dimitra applications have been adopted in 16 countries and counting. Dimitra's token provides a mechanism for some of the farmers most in need to gain access to the system free of charge.
Jon has grown this dynamic company to 150 team members and is continuing to develop software that enables the best decisions to be made by farmers, cooperatives and governments.
Pradeep Goel
– CEO- Solve.Care
With Solve.Care, Pradeep created the Solve.Care Platform, a full-stack blockchain platform to improve the coordination of care, benefits administration, and make payments in healthcare a much easier process for patients and all healthcare stakeholders. Solve.Care has worked tirelessly with the goal of better and more accessible healthcare. Blockchain provides the basis for a secure, decentralized platform that provides privacy and empowers patients. Blockchain provides immutability, audibility, and secure data management, and multi-layer data encryption. Solve.Care's Platform can be used to build many different digital healthcare networks (called Care.Networks) to serve different healthcare needs. 
One of these Care.Networks, Team.Care Network, is a powerful blockchain solution to securely manage COVID-19, well-being, and remote work risks for the good of employees and organizations. Businesses are able to make data-driven decisions based on accurate analytics, alleviating risk to the workforce against possible COVID exposure, as well as the ability to immediately execute mitigation plans should any positive cases be detected within their workforce. This is just one example of the healthcare networks that can be created on the platform. The type of healthcare networks that can be created are limitless and cost-effective, taking only weeks or months to create instead of years.
Amy Westervelt –
CEO – Delivery Lead- Energy Web Foundation
Is the lead of Energy Web Foundation's Green Proofs for Bitcoin Initiative which is focused on helping the bitcoin network to be powered by 100% renewable electricity. Through her hard work and dedication to the energy transition, Amy has convened an ecosystem of over 30 bitcoin miners and financial organizations in addition to building a world-first open source software solution making it possible for bitcoin miners to prove exactly how much green energy is being used to power their operations. She is a well respected member of small but growing community of experts that sit at the nexus of the energy transition and blockchain; through her tireless work we have a real shot at achieving 100% renewable bitcoin proof of work hashrate in the next five years. 
Amy's drive and passion to accelerate the global energy transition is a wonderful example of innovation and positive impact in the broader blockchain and Web 3 space; I cannot recommend her enough for this award. 
For more information, please see Blackrock's commentary on the initiative and the initiative's explainer documentation.
Jan Turman – Brand Ambassador – BloqFile
Has been active from the beginning with BloqFile and has taken numerous efforts to work hard and encourage moving BloqFile into the mainstream. Strong words followed by action can be a truly transformative catalyst in bringing about a company's vision– and keeping the mission and focus of BloqFile on course has been Jan's chief contribution. Although the nomination for Jan falls under the banner of "courage" I feel that it appropriate to add the two letters "en" before the word to best encapsulate what she has meant to BloqFile and to me personally.
Pradeep Goel –
CEO- Solve.Care
Has been nominated for the Courage Award for his tireless efforts to clothe and shelter thousands of war-ravaged refugees in the Ukraine conflict.
When the Russia-Ukraine war erupted, Pradeep, an American entrepreneur and businessman, was the CEO of a technology company, Solve Care based in Kyiv, Ukraine.
Pradeep had the option to return to the United States to his family to weather the conflict in safety, yet he chose to stay to support and protect his Ukrainian employees and the people of his adopted home. He started an initiative called "Care Shelter" which built housing and provides food, shelter, schooling, and medical attention to the war refugees he saw displaced all around him. While these efforts were supported by donations from contributors around the world, Pradeep's Care Shelter initiative was largely self-funded. To date, they have built more than 10 shelters accommodating 1100 beds and serving over 2500 people.
I know Pradeep to be a blockchain innovator and thought leader, but because of his courage in the face of danger, and his demonstrated love for the people of Ukraine, I believe Pradeep is also a hero.
Michael Benzaken – Founder & Executive Director – Citizen Warrior Foundation
Former Chair & CEO of an SME Life Science multinational, Mike is known for his dynamic engagement with the UN, non-governmental Supranationals, & Health Ministries across the globe. With them, he spent years leading new collaborative programs to serve disadvantaged communities in hostile environments through his advanced understanding of the government procurement process. While improving his company's tech & analyzing market data to ensure fair competition in the tendering for foreign disaster relief & economic development, Mike came to realize the situation was bad. Agencies on the Hill verified his conclusions and confirmed that his conclusions were even worse than suspected. Further, they uniformly expressed how these "inefficiencies" demoralized them, how that they felt powerless in implementing solutions, and further explained the reality of the process. Their shared sentiment along with the faith some had placed in him to come back with a solution served as the impetus behind him determining the only way to bring about substantive change in the mitigation of meaningless human suffering was through technology.
As such, Mike transitioned this experience into emergent tech to design solutions to problems many others misunderstood. Not too far into his pursuit, he & his late business partner were attacked for their investigations and the solution they had intended to bring to market. After his late partner's "disappearance," Mike's will to continue investigating systems so to best design novel systems to determine and make maximally immutable that which is true raged on. This is the fuel that sustains him through the enormous life-altering costs he had incurred due to the unmitigated predation in DeFi, CeFi, and VC in emergent tech more broadly.
Following the recent CeFi implosion & FTX contagion, Mike activated his nonprofit to investigate DeFi, uncovering points of "alleged" criminality that materially impacted the Examiner's Report in the ongoing Celsius case. After his nonprofit CWF reported on various these unaccounted-for anomalies, the danger of confronting corruption again revealed itself. Post-publication of his findings, an associate of his, the founder of a popular DeFi protocol, was found drowned… an event which weighs heavily on Mike to this day. These events ignited Citizen Warrior Foundation's crusade to leverage emergent technologies to safeguard the innocent from malicious predation due that those institutions we've previously entrusted to do so have failed us. Further, that the best way to mediate the excesses of these fallen institutions would be to both collaborate with and compete against them.
Mike's determination to pursue truth & justice, despite the consequences, has inspired others to join the movement that is now taking root. Citizen Warrior Foundation's findings & its stealth support network have demonstrated that one's success is directly proportionate to the success that one elicits from others. CWF is now attracting the brightest minds and most virtuous individuals in tech, finance, diplomacy and law to join the battle and collaborate under a banner of shared 1st principles to design, develop, and steward novel emergent tech stacks in furtherance of mitigating meaningless human suffering worldwide.