TUFE 2018 INTERNATIONAL INTERDISCIPLINARY CONFERENCE/GREECE "IMPACT OF MEGATRENDS IN REAL ESTATE" A SUMMARY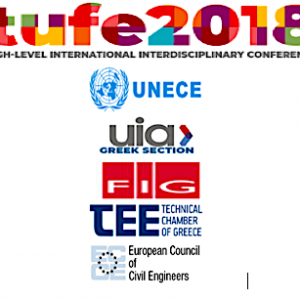 "Education is the kindling of a flame, not the filling of a vessel." ― Socrates
The TUFE 2018 3-day conference — organized with the collaboration of four European and International Organizations — concluded on November 9th.  I returned to the U.S. on November 10th after a week in the historical and world-class City of Athens, Greece.  I gave a keynote speech at this prestigious inaugural event while representing the Government Blockchain Association (GBA) and the Foundation for International Blockchain & Real Estate Expertise (FIBREE).    My speech was on "The Transformation of Global Land Registry Systems: Protecting Rights and Advancing Economic Development with Blockchain".
The conference was organized by the following Euro-centric organizations:
 TCG – Technical Chamber of Greece (organizer and host)
 FIG – International Federation of Surveyors
 UNECE WPLA – Working Party for Land Administration of the United Nations Economic Commission for Europe
 UIA (Greek Section) – International Union of Architects
 ECCE – European Council of Civil Engineers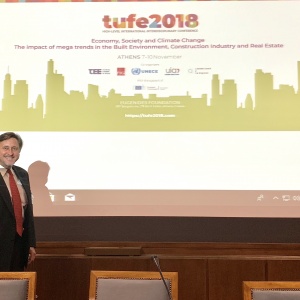 The conference marked the beginning of a long-term cooperation between European and international professional and scientific bodies. This cooperation will enhance dialogue and the exchange of ideas in line with modern trends in the management of land and real estate, heritage preservation, property valuation and taxation, sustainable and renewable energy sources and standardization of BIM (Building Information Modeling).
The 300 participants and attendees at this Euro-centric event were from over 40 countries including Nigeria and Ghana in  Africa. The audience included surveyors, appraisers, architects, engineers, and real estate industry professionals along with officials from the United Nations BureauWorking Party for Land Administration.
During the three days, trends in the management of land and real estate were presented, including

land administration,
land use planning and territorial justice,
heritage preservation,
property valuation and taxation,
construction stability and development issues in terms of technology,
environmental friendly and disaster management tools,
funding issues,
technical  issues such as blockchain technology and its potential,
the use of crowdsourcing in surveying,
educational and professional aspects.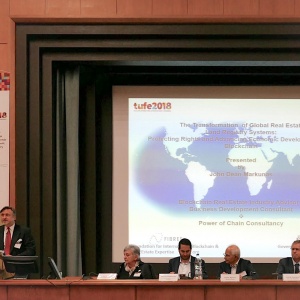 The presentations and discussions throughout the conference showed interest and desire among all organizations and professions to work together to address these issues, and that they have a responsibility  to jointly work on:
Increasing capacity among relevant professionals in the private and public sectors, and in academia, about their role in the digital society for the good management of land and real estate and for a sustainable real estate market;
Building sustainable and robust professions by outlining the value of architecture, construction quality and reliable and affordable geospatial information for the safety and well-being of the people;
Planning for sustainable and affordable cities and establishing sustainable real estate markets and formalizing the informal real estate sector with blockchain technology;
Developing multidisciplinary ideas on the impact of the current and future mega-trends in the built environment, construction industry and real estate;
Establishing a closer cooperation for a world free of poverty, fear and inequality, where life is safe and growth is resilient and sustainable.
Of particular significance was the high level of interest in blockchain and how it can be effectively used in global land registries and land governance programs;  including its relevance in providing a supporting role in solutions for informal land settlements and promoting economic development.
Members of the International Federation of Surveyors (FIG – originally the Fédération Internationale des Géomètres) co-organizer of the event, expressed keen interest in how blockchain would impact and assist their professional fields.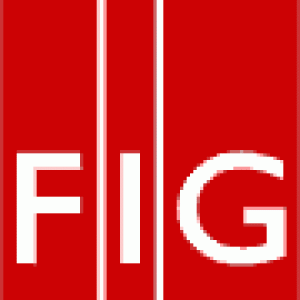 FIG (celebrating its 140th year) represents the interests of surveyors worldwide   It was founded in 1878 and is a United Nations and World Bank recognized non-governmental organization of national member associations, cadastral and mapping agencies and ministries, universities and corporates from over 120 countries. This international organization covers the whole range of professional fields within the global surveying community; surveying, cadastral services, valuation, mapping, geodesy, geospatial. FIG also provides an international forum for discussion and development aiming to promote professional practice and standards.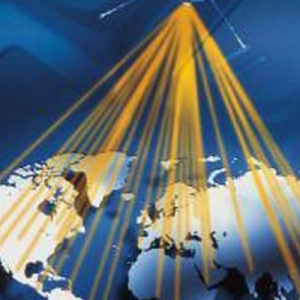 "Management of 'land', the 'sea' and the 'built' environment". The surveyors' task is to determine the size and shape of the earth, to map its surface and to manage it in a sustainable way. Given the depth and breadth of services that FIG members furnish, blockchain technologies will provide broad platforms for surveyors to integrate their end work onto the chain from virtually all aspects of the surveying industry product and service lifecycle such as
1) mapping unregistered land
2) valuations
3) acquisition, processing and management of topometric data
4) the implementation of land and geodata policies
5) hydrographic surveying
6) construction economics…and more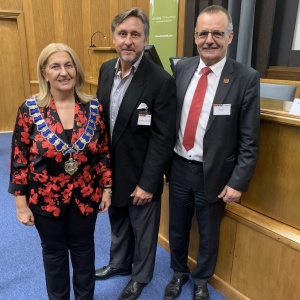 The Kindling of the Flame
At the close of the high-level international conference, TUFE 2018, FIG President Chryssy Potsiou signed a wide-ranging cooperation agreement with the International Union of Architects (UIA) and the European Council of Civil Engineers (ECCE).
The closing session also celebrated the special occasion of a handover event marking the end-of-term for current FIG President Chryssy Potsiou, Greece (2015–2018) to President-Elect Rudolf Staiger, Germany, who will take over the FIG presidency on January 1, 2019.
---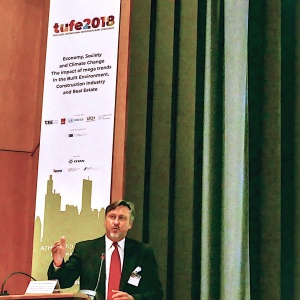 GBA Leader – Land Titling Working Group
 FRIBEE – New York City & Regional Co-chair
Principal at Power of Chain Consultancy