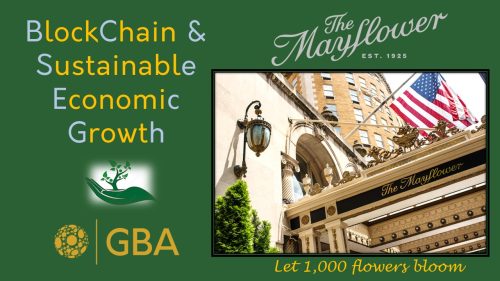 BSEG Wrap-Up
Blockchain & Sustainable Economic Growth wrapped up 3 days at the Mayflower Hotel with a cowboy hoot.
BSEG was the Government Blockchain Association's spring event and the biggest and most ambitious by far. The 3 days at the Mayflower Hotel comprised of Smart Contract Training, Blockchain Maturity Model Training, an Art Show with NFTs, demonstrating a mobile voting app, notable speakers from governments around the world, and two evening receptions.
Blockchain Maturity Model (BMM) Released – Watch the Video.
The speakers were outstanding. Check out the videos on our YouTube Channel. Subscribe to our channel.
The takeaway: Blockchain is relevant in a thousand different industries for sustainable economic growth, and it is being adopted now. Are governments prepared?
GBA's Receptions are amazing. BSEG's Receptions were on the stunning rooftops of the International SPY Museum and the rooftop of Capitol View 400. Under balmy May skies, the evening receptions were exquisite.
Don't miss GBA's next live conference, Blockchain & Infrastructure, live at the National Press Club, September 29-30, with another one-of-a-kind evening reception.
Blockchain & Infrastructure – Sep 29-30, 2022, in Washington, DC
We hope to see you there.