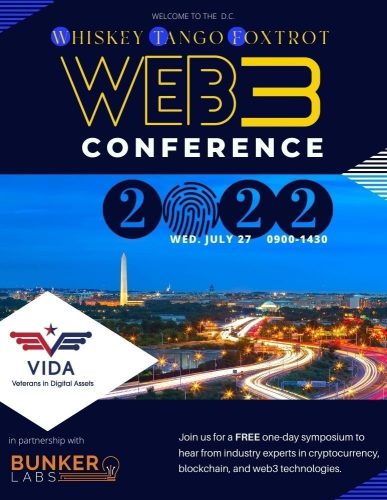 Veteran in Digital Assets (VIDA)
I'm part of the organization 
Veterans in Digital Assets (VIDA)
 which aims to help active duty military and veterans learn more about cryptocurrencies and also find career opportunities in web3. We're partnered with Bunker Labs (website: 
https://bunkerlabs.org
) which is a 
501(c)3
 organization that helps veterans and transitioning service members find career opportunities in the private sector.
VIDA is hosting an event called: 
Whiskey Tango Foxtrot (WTF) Web3
. It's a 
FREE
 one day symposium intended to support the education initiatives of VIDA. The event will run from 9 am to 3 pm EST at the 
Army Navy Country Club
 in Arlington, Virginia on 
Wednesday July 27, 2022
. There will also be an after-event social co-hosted by 
Chainalysis
 at the 
International Spy Museum
 in Washington D.C.
Our topics include:
·  Blockchain/Crypto 101
·  Smart Contracts/NFTs
·  Stable Coins
·  Decentralized Autonomous Organization (DAO's)
·  The View from the Hill
·  National Security Implications Panel
 
The event is intended to be non-partisan. Speakers and attendees include members from the Special Operations community, senior military leadership from the Pentagon and lawmakers from Capitol Hill.
We are looking to help spread the word to the GBA community! If you know anyone that might be interested please feel free to share. 
Registration: Https://lu.ma/WTFWEB3