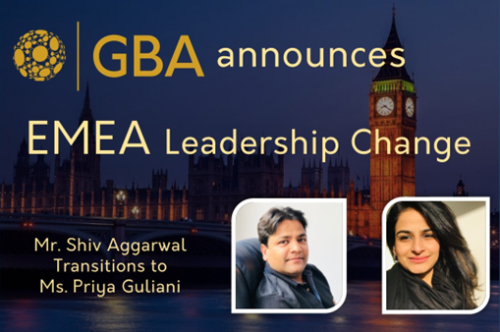 GBA Global Leadership Changes
Shiv Aggarwal, GBA's current Regional Director for Europe, Middle East, & Africa (EMEA), has decided to step down from his role to focus on his venture EarthID, a decentralized identity platform that allows secure and frictionless exchange and verification of identity information. The GBA leadership is very appreciative for the dedicated work that Mr. Aggarwal has invested into this role and wish him great success as he builds EarthID.
Shiv says, "I have thoroughly enjoyed my journey at GBA since 2018. There has never been a dull moment – including reviving the London Chapter, forming the task force with Jovan Marjanovic and countless more. I have always loved working with GBA's leadership team, as well as the entire global community. GBA is close to my heart, and I will always be around. However, now EarthID needs my full attention. 2022 has been an exceptional year for us. We are growing from strength to strength – increased our customer base, forged new partnerships, forayed into new geographies, covered by international media, and won the Digital Leaders 2022 Blockchain Innovation Category award. All this would not have been possible without GBA's community. So, I will always be grateful for the same."
The EMEA leadership role will transition to Priya Guliani. Priya is a technology and impact entrepreneur. She is an MIT certified leadership professional and Oxford certified Blockchain expert with over 14 years of IT consulting experience. She has been instrumental in the success of many strategic and digital transformation initiatives for global brands. Ms. Guliani is also an author and speaker in innovative technology and sustainability space. She Joined GBA in 2019 as a member and has since moved ranks from leading operations to UK chapter president. Being passionate about sustainability, inclusion, and climate impact, she leads the GBA's 'Sustainable Environmental Stewardship' working group. Priya also served as the Director for GBA's 'Blockchain & Sustainable Economic Growth' event in May of 2022.
Some of Ms. Guliani's other achievements include: the UK chair for G100 Social Entrepreneurship, Women in Leadership Award 2022 by GCPIT, Mentor with Women in Tech, and she serves as an advisor to an impact fund and innovative startups. She brings excellent thought leadership, camaraderie, and meticulous organizational skills, all while leading by example.
Priya will take the lead in establishing meaningful engagement for individuals and organizations (government, private, and non-profit) that are interested in developing and implementing blockchain technology across the EMEA region. The Government Blockchain Association is proud and honored to welcome Ms. Priya Guliani to the team as the new Regional Director for EMEA.