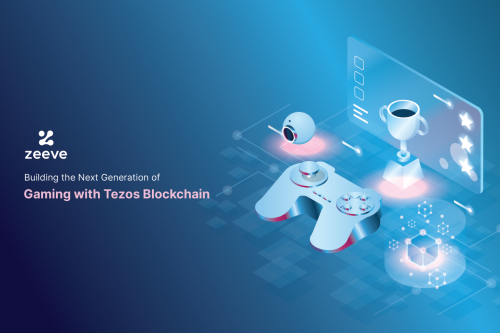 Building the Next Generation of Gaming with Tezos Blockchain
Gaming and blockchain technology integration will bring new elements to the realm of online games. It can potentially make the online game ecosystem more secure and creative. Presently, there is excitement to move the industry forward. Further, blockchain companies have significant plans to drive engagement in Web3 gaming.
There is a big role of Layer1 as game ecosystems require high TPS and fast finality. Tezos is changing the way sustainable Web3 games are built. It wants to provide an immersive experience to gamers. It is a smart contract and dApps blockchain platform that reimagines the classic games you love.
In mid-2023, Tezos plans to become the fastest blockchain in the world by going for 1 million transactions per second. With Tezos, exciting collaborations are ahead in online gaming. There is a whole new world to explore, so let's learn more about Tezos and how it's on a way to build the Web3 Gaming Universe.
In this blog, we will know more about the gaming platforms in collaboration with Tezos. We will further have a look at why opt for Tezos as a blockchain gaming partner.
Blockchain-based P2E games
Blockchain gaming is when online games include the usage of blockchain technology, NFT, and cryptocurrencies. This allows the gamers to buy, and trade in-game items with other networks. Gaming companies are fostering Web3 game development around the world.
Since we know gamers around the world are spending more than $70 billion without any possibility of returns. Blockchain gaming has the potential to change the earning scenario of gamers and gaming platforms.P2E games or play-to-earn games are the ones in which gamers can play to earn cash.
Tezos is a fast, energy-efficient blockchain. It supports smart contracts and dApp development. Tezos is making a profit in NFT-based P2E games (the games to earn NFT instead of crypto). The network provides easy-to-upgrade architecture, low energy consumption, cheaper fees, community governance, and much more to gaming platforms and gamers. With Tezos you have an opportunity to use native staking returns on XTZ (the native token of Tezos) and simultaneously earn from Tezos investments.
Some of the Gaming Platforms on Tezos
Tezos is bringing a great deal of tools for Web3 gaming and many companies and organizations are building exclusive games along with Tezos. Here are a few existing gaming platforms part of the Tezos network:
Unity
Tezos SDK collaboration with Unity Professional services, Tezos has brought Web3 gaming to one of the popular game development platforms. In November 2022, the blockchain platform and the game engine developer Unity joined forces to build Web3 games. The SDK will also provide support for dApps development.
Tezotopia
Among various games here comes the game which is built on the Tezos blockchain platform – Tezotopia. It is a real-time NFT strategy game built on Tezos that allows the players to earn yield farming NFTs. Yield Farming with Tezotops Non-Fungible Tokens (NFTs) is a great way for players to earn rewards. By participating in Yield Farming, players can gain access to special loot boxes with various rewards, rare artifacts, and collectibles. Additionally, players can battle against other players to win even more rewards. With Yield Farming, players can enjoy the thrill of competition while earning rewards.
NFTs are created on the blockchain and can represent any type of digital asset, from valuable items such as art and collectibles, to units of in-game assets, to plots of virtual land. NFTs are actively traded on the marketplace, allowing users to buy, sell, and trade these digital assets with ease. Additionally, in-game tokens can be staked to earn rewards. In order to begin playing, users must have a Tezos wallet that is funded, allowing them to purchase the initial game assets on a large and active marketplace. At Tezotopia, you have the opportunity to get and cultivate your own parcels of land in an imaginary world. You can extract four distinct types of resources from your land.
Ubisoft
In April 2021, one of the biggest gaming giants Ubisoft launched its gaming on Tezos. Also a partnership with a big e-sports organization — Team Vitality. Tezos allows community-driven gaming as it has a governance mechanism which makes it better for easy updates. One of the biggest reasons Ubisoft selected Tezos is that the platform is energy-efficient.
Misfits
Esports gaming Misfits has selected the Tezos platform as its official blockchain for a multi-year partnership. The company has selected Tezos to deal with branding and sponsorship and community building. There will be an integrated approach to grow the gaming group and to promote the adoption of blockchain gaming.
Dogami
One of the top mobile P2E games present on the Tezos blockchain is Dogami. It is a collectible game based on the Tezos blockchain that allows players to acquire various breeds and kinds of animated digital cats. It is similar to Marvel comics, in that players can collect and trade their cats with others. Dogami offers a unique way to interact with the blockchain, allowing users to breed, collect, and trade their digital cats. The company in March 2022 secured $500K capital for more development. The support from the Tezos foundation has strengthened the DOGAMI ecosystem. This brings more adoption of the game. Dogami is one of the first projects to leverage Tezos for in-game NFTs and in-utility token $DOGA. Players will be able to hone their skills, customize their dogs, develop traits, and participate in challenges to earn $DOGA, the game's internal token, in the Petaverse.
PixelPotu
PixelPotus is an NFT project that allows users to build their own collection of American presidents. Collectors of Presidential Non-Fungible Tokens (NFTs) have a wide variety of options to choose from. With 45 different types of POTUS NFTs, each with 6 different rarities, there is something for everyone. Collectors can also burn and convert less rare NFTs into rarer ones, making it easier to build a unique and valuable collection. Eighty percent of the claim and upgrade fees collected from the POTUS title are held in the treasury. The remaining twenty percent is used to cover the costs of running the title. When the final owner claims the title, they will receive all of the funds held in the treasury.
The $PXL token is a key component of the project, allowing users to purchase in-game assets, perks, and services. This utility token is the currency of the project, allowing players to purchase the items they need to progress in the game. The token also provides a secure and reliable way to pay for these items, ensuring that players can trust their transactions and have peace of mind when making purchases.Players will be able to experience the thrill of a presidential debate in this exciting new game! They will be able to customize the "presidents" they debate against, choosing their own stances on key issues and crafting their own arguments.
Why opt for Tezos for Gaming
From operating at the highest scale to paying minimum fees, there are many reasons to join the network. Here are a few of the advantages of opting for Teosz for blockchain gaming:
Minimal Transaction
The transaction cost on Tezos is low, ensuring that everyone participates. With more participation, there will be a strong community. Thus, gamers and gaming platforms all around the world continue to join the Tezos ecosystem to experience blockchain gaming.
Secure & Efficient
Tezos works on the Proof-of-stake PoS consensus mechanism. In addition, there is a formal verification process to test logic and code as it is always good to know the correctness of the code. Due to its energy-efficient approach, the network works best for the Web3 Gaming future. Subsequently, the overall cost of operation on the network reduces.
Longevity
There is a group of enthusiastic developers and engineers. Tezos has a proven on-chain upgrade mechanism. The stakeholders update and improve the network by democratic process. The gaming community members can propose upgrades to the protocol. Since gamers can suggest upgrades, the network seems more trustable.
Fast
Users aren't willing to spend all day on a transaction. With fast transactions, Tezos provides a better user experience while all the transactions happen on-chain.
Clean
A big criticism in NFT gaming is related to environmental concerns but Tezos happens to be a winner with clean NFT generating 60MWh/year which is much less than a PoW network. The PoS mechanism makes it one of the best alternatives for eco-friendly platforms suitable for gaming.
Those looking for a comprehensive overview of Tezos are recommended to check out the blog post recently published on our website. The blog post provides a comprehensive overview of the Tezos blockchain, its features, and its potential applications. It is an excellent resource for anyone interested in learning more about Tezos and its capabilities. So, if you are looking to gain a better understanding of Tezos and its potential, I strongly suggest that you take the time to read through this blog post.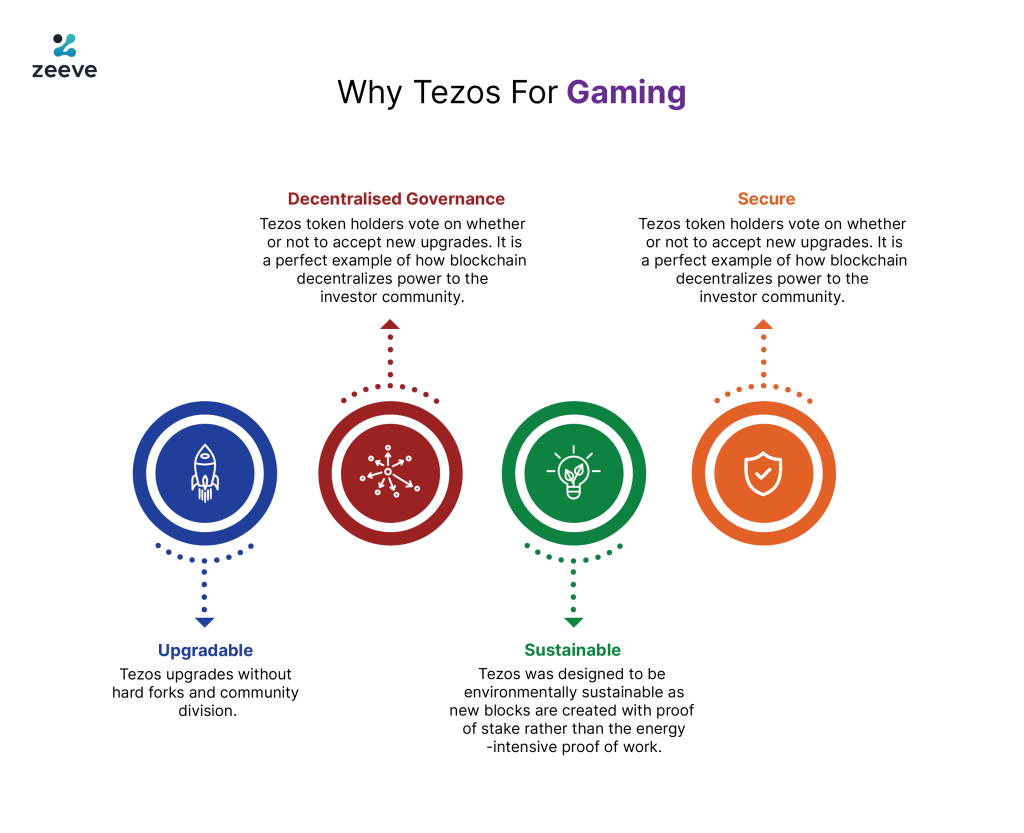 What Tezos provides in its Game Launchpad
If you choose to launch your game on the Tezos platform, the network will provide you with the necessary knowledge and tools to understand the fundamentals of Web3 and how to create a successful blockchain-based game. You'll gain insight into the advantages of using blockchain technology, such as secure transactions, immutable data, and the ability to create a decentralized gaming economy. With the help of the Tezos network, you'll be able to create a game that is both entertaining and profitable. It provides technical support to bring your game to the Tezos network. The company defines the roadmap and token economics. Furthermore, they get you grants to launch the game on Tezos. Once the game is launched, they will help market the game and develop a strong community.
With security focussed and easily upgradeable, Tezos will help your gaming platform to transition from free to play-to-earn Web3 ecosystem. Several resources and guides are available for the gaming community to know more about the industry. With the recent launch of the 12th protocol update, the Tezos network will bring more features for gaming and other use cases as well.
Final Thoughts
In the future, the on-chain data on Tezos needs to be interpretable and simpler so that support teams aren't left scratching their heads. The popularity of Tezos depends a lot on its scalability. Further, additional work needs to be done on data availability and working the sidechains. With its efficient chains, it will be great for game developers.
There will be long-term success for the blockchain network Tezos and in Tezos collaboration with gaming. The network claims itself to be completely user-governed and user-centric. Thus, it will be beneficial for blockchain gaming companies to select Tezos as their game launchpad.
Associate with Zeeve for Gaming Development On Tezos
Partner with Zeeve to develop Tezos-based gaming applications. Discover the power of the Tezos network and unlock the potential of blockchain-based gaming with us. Our platform offers a range of advantages to developers and gamers alike, including secure transactions, fast and low-cost payments, and a self-amending protocol that ensures the integrity of the network. With our platform, you can easily manage all your blockchain-based games and take advantage of the many benefits that Tezos provides. Enjoy the security, scalability, and flexibility of the Tezos network and create the ultimate gaming experience.
Partnering with Zeeve is an incredibly rewarding experience for game developers. Our team of experienced developers are well-versed in integrating blockchain technology with gaming, and our intense research into the gaming market ensures that we are always up-to-date with the latest trends. By joining forces with Zeeve, game developers can be sure that their projects will be a success.
To learn more about Zeeve, visit our Developer Center or join us on Twitter and Telegram