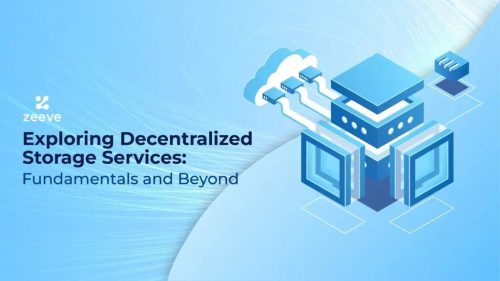 Exploring Decentralized Storage Services: Fundamentals and Beyond
We live in a data-centric world, where everything has become a part of data – and one of the most significant challenges IT sectors have been facing in recent years is storing, maintaining, and updating the data on a regular basis. The data is exponentially growing, and many organizations fail to maintain the rationality and consistency of data on the different operations they perform.
There is always a need for improvement in data storage, as data is growing day after day. So the solution many big and small organizations found revolves around Decentralized Storage Service (Decentralized Storage Service). Decentralized Storage Service came as a strong solution in the crowd of different inefficient solutions.
A decentralized storage service is a system of storing files on multiple servers or locations in such a way that they are all connected to each other but also work independently at their own pace. This system can help programmers and organizations to work locally and gather the correct information.
As HTTP is the biggest distribution system, it ensures connecting the client with a server in an efficient and secure way, but it lacks the advanced fundamentals of a decentralized storage service. With the increase in user data, there is also a need for upgrading of the design system at large.
So what's the solution? Are we still in the middle of confusion about how to manage all this data securely and efficiently? Maybe yes, or maybe we are not looking at the bigger picture that concludes this problem.
Blockchain Technology and Decentralized Storage — The Bigger Picture
Blockchain technology is the big word on the internet, and every industry is looking to the future with blockchain. Therefore the most promising term we found is blockchain combined with Decentralized Storage Service.
This combination helps in accessing and storing files or data in an efficient and authentic way. The blockchain distributed system works on a layer based structure, so let's understand all the layers and why it is more efficient than other combinations of DFS.
IDENTITY LAYER: Blockchain technology works on nodes and packages to distribute data at different locations. The first layer assigns a unique ID to each node – means a hash code.
To achieve the functionality that a node is collision-free or no two or more nodes seem identical in any manner, so it will not create confusion in the further transportation of data – every node gets multi-hash value encrypted code wrapped in a public key.
To avoid the hash-collision, programmers develop a hash code. The format of hash code is – <hash-function-code> <hash-digest-length> <hash-digest-byte>.
ROUTING LAYER: The second layer functions on the system so that every file is easily accessible by nodes. To achieve this functionality, the system performs three important steps:

Maintain the specific locations of data and peers.
Responding to local queries
Regular communication with a hash table

NETWORK LAYER: It provides a secure environment so that different nodes can easily connect with each other and exchange files at regular intervals.
DATA LAYER: It helps to organize the data in a particular systematic way and in the layered components of the data model. It retrieves files in a formatted way.
INCENTIVE LAYER: It shows how the Decentralized Storage Service is actually working; – if it is establishing a good layer, then rewards will be given, and if not punishments will be granted.
working;
It's a layer that provides an honest review of the mechanism of the whole system and encourages nodes to actively work with the transactions of data.
DATA-SWAP LAYER: This layer shows the strategic ways to swap data from one node to another without losing any information.
CONSENSUS LAYER: This layer records the transaction between each node. This layer is basically needed in a large or multinational organization where a huge amount of data is stored on a daily basis, because it joins all the records in a centralized way, updates them regularly, and keeps it secure and consistent.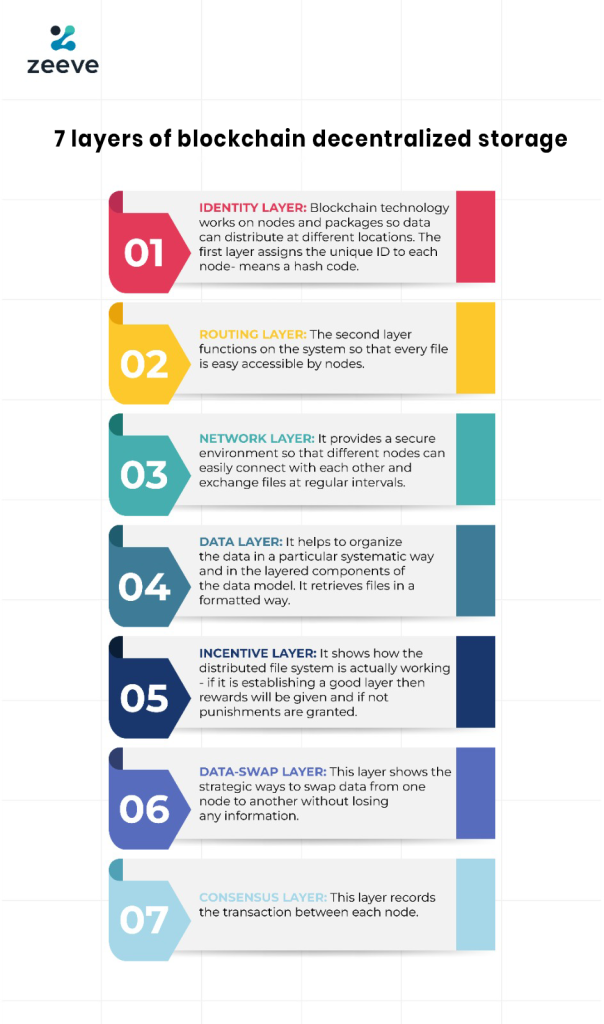 Backbone of The Blockchain Decentralized Storage System
Some best platforms that provide us the space to use this decentralized storage service with blockchain are;
IPFS – InterPlanetary File System
IPFS is a peer-to-peer software that simplifies or connects a huge number of data on a single system easily and efficiently and it serves clients to store files locally anywhere over the globe. IPFS is a user-based platform where a client can store and distribute a large number of data on their own.
Storage distribution becomes easier with IPFS as the main motive here is content-addressing. Through content-addressing, the problems are served as per the client-server model. Zeeve uses the IPFS to make your content more secure.
It works and communicates through the TCP, TOR, or even Bluetooth, so a user can download the software from anywhere and use it.
It is a perfect alternative for HTTP, as HTTP falls in certain cases and works as a client-server architect, while IPFS is established software that works on a hash and data model.
As it is established on a distributed database, it loads much faster and also doesn't have many servers to distribute its channels.
Swarm
Swarn is another popular data storage platform, basically for Ethereum records and blockchain data. It is a completely decentralized model that serves to connect technology and store large amounts of data.
It is built to ensure the persistence of the data is available at a time without disconnecting nodes, transferring data from one packet to another, and also saving it from DDOS(Distributed Denial of Service) attacks.
It serves a layer data storing concept and provides services like node-to-node messaging, media streaming, database service, and stable channel infrastructure.
Swarm has a lot of potential in the future of blockchain, as it includes fast-changing and efficient features in it.
STORJ
The next decentralized platform enables clients to network, negotiate, check availability, integrate different data, discuss contracts, transfer and update data, and receive or transfer money with other connecting nodes.
It is peer-to-peer software where every peer can do both – they can be the agent while collecting information or they can be the performers to provide information without human interaction in the process.
It is mostly used in video storage, a large amount of data or software distribution, cloud application data storage, operating a wide variety of networks, buy or selling blockchain tokens.
Storj is one of the sustainable platforms that fulfil long-term business model goals, it also released its new version that is more stronger and high-performer than the previous version.
Benefits of Decentralized Storage Service
Blockchain distributed systems were not a widely used system in the past, but in recent years, many organisations adopted this as it is easier and provides great benefits in the long run. Some of the major benefits of using Blockchain Decentralized Storage Services are:
Scalability: As data is increasing day by day, the storage capacity of any server is unmatched by the conditions. So to improve this and not find any fault regarding data insertion, updation, and modification – the blockchain distribution system use two ways for better data storage.

Off-chain Data storing: It is a process of sending the encrypted hash codes rather than full code, this improves the synchronization and integrity. Data can be maintained in a different separate ledger so that network traffic can be reduced.
Erasure Codes: This guarantees high data availability without exploiting the code and data. This strategy is also adopted by IPFS.

Decentralized working pattern: The storage system is a crucial part of every organization, they need to collect, store and maintain the data at any cost. Using a decentralized format provides you better transparency to check the data, authority to take decisions, ability to expand your business with the right information, and better utilization of resources.
Built Trust: There is always better significant proof that data is stored in the blockchain Decentralized Storage Service than in client-server format. So the clearance of storing data builds a high level of trust.
Encryption and Critical Data: An enterprise-grade storage service or a system uses the content-addressing system. Any of the content that is not saved gets deleted when nodes clear the cache. If we talk about Zeeve, there is distributed locking system & folder synchronization to save and access critical data.
The Future of Blockchain-Decentralized Storage Service
Clearly, we can see the DFS has a lot of potential and it works better, is efficient, and also cost reliable. The future sees great potential in the platforms like IPFS, swarm, and more like them – as they keep improving regarding data inserting, retrieving, modification, and user administrative parts.
Data is crucial, and it remains the crucial part, but the thing is how to store and share the data without any harm from an attacker. To keep user data secure and private, companies need to work on a different pattern, programmers have to work and give their promising work, and managers need to manage all these data critically.
Lastly, all these platforms need to update regularly so they can store a large amount of data regularly – and to follow all these, and the distributed blockchain file systems seem to be best.
Challenges With The Decentralized Storage Service
In the Decentralized Storage Service, the nodes should be secured. The messages on the system may get lost as the database is complicated. Also, the handling of the DFS is more exhaustive than compared to a single-user system. Furthermore, there is a need for trustworthiness. The trustworthiness will improve with time as the awareness around decentralization improves.
Due to all of this, there are chances of overloading that can take place on the system. The DFS systems are complex to deploy.
Such problems are well-managed by blockchain infrastructure management platforms and one of them is Zeeve. Your search for reliable decentralized storage comes to an end with Zeeve Decentralized Storage Service. We are the leading Blockchain as a Service platform helping enterprises and Blockchain startups build, deploy and manage reliable decentralized apps and Blockchain networks.
We do many informative spaces on Twitter and weekly news discussions. We are also active on LinkedIn. Wish to know about our work in detail and connect with us on Telegram. Further, get more information about Zeeve by directly contacting us.