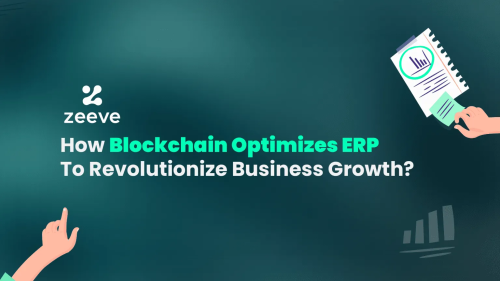 How Blockchain Optimizes ERP To Revolutionize Business Growth?
ERPs or Enterprise Resource Planning  play an integral role by smoothing automation that impacts business segments like  accounts, invoicing, supply chains, product procurement and risk management. That's why  Richard Cline, Innovation Managing Director at Grant Thornton says that they are deeply ingrained in the business process to act like the heart and soul of the business.  However, one thing that he missed to  acknowledge is that technology bottlenecks and lack of standardization have created  systematic failures for ERPs to gain mileage as per the changing business trends.
How? 
For example, think about a company which has different branches at different locations and they have different ERP systems managing their operations.  To collectively bring all the data under one common dashboard for all ERPs that are operational seems a daunting task.
Why?
Because they have heterogeneous tech structure, intermediaries   and regulatory bottlenecks.  Hence , intercommunication  among each other is difficult,  impacting positive business outcomes. As a result, decision making is delayed, which impacts the growth of the business. ERPs automate the business process, significantly reducing costs and improving decision making.
However, when you have multiple ERP systems operational in your business which cannot communicate among each other, the whole purpose of automating the business for better outcomes do not come to fruition.  Blockchains have come off age as an amenable solution which shall change this and revolutionize the ERP landscape like never before through Blockchain in ERP.

How Would ERPs Change Under Blockchains?
Blockchain allows the B-a-a-S or Blockchain-as-a-Service or Blockchain in ERP to scale ERPs in a truly decentralized and trustless manner linearly,  using permissioned decentralized data  and smart-contracts to automate the process. The trade-off here is unlike a traditional ERP, which only auto-executes, a blockchain powered ERPs are increasingly communicative with partner ecosystems that reflects in their modus operandi.  For example, SAP is using blockchains for SAP HANA blockchain and SAP-Cloud Platform Blockchain Service. So, all the partner networks irrespective of their location and regulatory compliances can communicate with their partner network and operate with full efficiency.
Due to such cloud-based support, it is now possible to alter the ERPs from a private walled garden to a highly accessible ecosystem where every other company which is using the ERP systems does not operate behind closed walls. Hence, establishing a unified automated payment system across different ERP ecosystems, which was not possible on a real-time basis, has been  simplified via blockchain in  ERP solutions. In addition to this, the erstwhile need for managing the business process among stakeholders using the ERP network will not be required anymore.  On the contrary, blockchains through smart-contracts would automate everything on their own. Thereby, paving the way for collaborative business operations which are not impacted by regulatory practices and trust issues created by sharing data among the partner networks.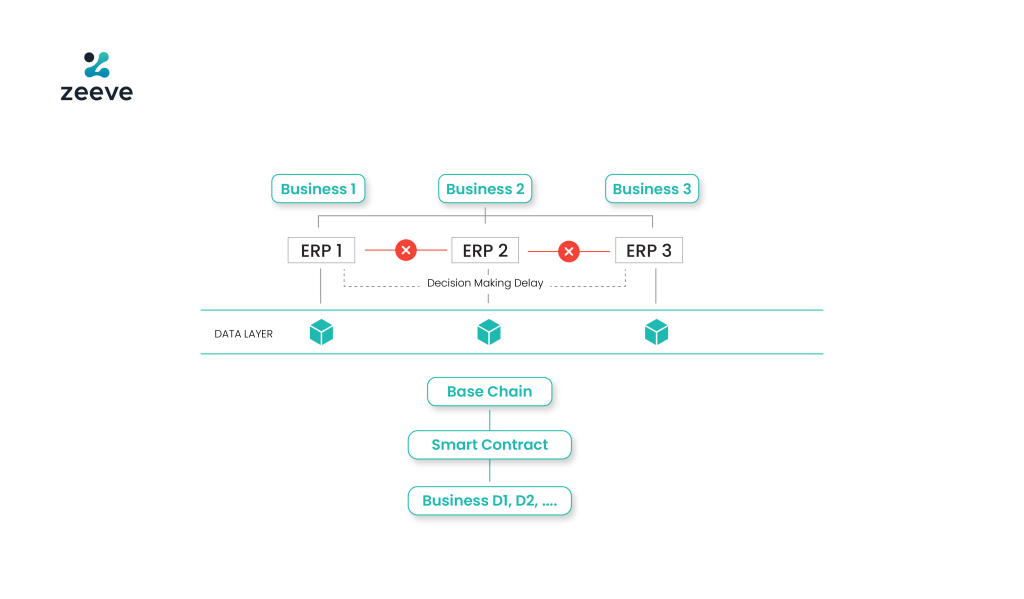 What Will Be the Impact of Such a Change?
Trust Gaps Filling Up
As we have already discussed above, ERP systems have innate trust problems with all other partner networks. Why? Because, intermediaries in the form of departments and personnel act as a common access point. However, post the introduction of blockchain in ERP, the trust gap between siloed ERP systems shall cease to exist. As a result, different sectors and businesses using the ERP systems can communicate for better business experience.
Reforming the  Supply Chains
The supplychain sector might be using different ERP solutions; as a result, there's no standardization in place which can expedite the business process among themselves. However, after the introduction of blockchain in ERP, the visibility problem existing in the supply chain among the partner networks using ERP solutions will be substantially reduced. Due to that, a better synergy can be established among manufacturers, retailers, and distributors for better business outcomes.
Enhanced Business Process
Right now, the business among participating entities in the business systems is largely manual using the existing ERP systems. However, once blockchain in ERP comes into the picture, they can automate the process via smart-contracts. It will be similar to the credit cards debiting your account on the due date of the payment automatically. So, when a business receives an order on the ERP, the smart-contract can auto trigger the shipment to the respective destination. The funds will be locked in the escrow account and only after the shipment has reached, the funds will be released for use. The entire process demands manual intervention in a traditional ERP system, but blockchain based ERP systems can do this on their own. Furthermore, it is also possible to standardize the systems so that all the partner networks in the ERP powered blockchain network can interoperate and work together.
Optimize the Security Concerns
In the present ERP systems, different departments and trade partners do not want to share data and interoperate among themselves citing business concerns and compromise of trade secrets. However, blockchains in ERP can quickly trace and track suspicious or unauthorized access to data and fix the BYOD vulnerabilities. In this way, even if the employees of an organization are using the ERPs from their personal devices, the organization can ensure that safety and security is intact despite the vulnerability of using ERP systems through mobile phones.
Conclusion
Enterprise Resource Planning is maturing with time; however, it has exposed systematic failures when it comes to standardization of the operations. Blockchains will be an additive technology that shall help simplify data sharing in a truly decentralized and private manner across ERP solutions irrespective of their geographical location  and technology stack to build one common platform for the complete ERP ecosystem.
If you are planning to build a blockchain-based ERP solution for your organization, get in touch with Zeeve. We are a no-code blockchain infrastructure automation platform providing full nodes, archive nodes, validator nodes, RPC APIs for 45+ blockchain protocols, including public and permissive ones. You can launch your application specific blockchain (app-chain), or build an OP and zkrollup chain using our Rollup-as-a-service offering, with all necessary infrastructure components.
Get in touch with Zeeve experts to learn more about how Zeeve can simplify your enterprise solution development experience.