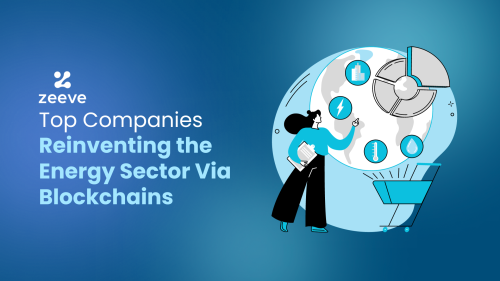 Top Companies Reinventing the Energy Sector Via Blockchains
As the energy sector has been allegedly contributing 40% to global pollution as per research, the need of the hour is to cut down on the emission for meeting the Net Zero Emissions goals of 2050. But when we look at the  energy market, the trust element is a major deterrent obstructing the use of green technology for energy production. For example, validating genuine carbon credit is hard when energy companies operating in developed countries exploit trust gaps in the distribution systems to sell fake carbon credits in developing economies.
Almost 8-15% energies get wasted at the time of distribution from traditional power plants to our home. Most of the retailers barely own any of the grid infrastructure, their forte is managing intermediary services like billing and metering usages. Still you pay the hefty bills.
If you want to read more on, why blockchain could be a great solution for the energy sector, read this article: Why must the energy sector embrace blockchain now?
Blockchains, if not completely solve, atleast improve a lot of these issues because of some of its inherent capabilities. It simplifies  accountability, verifiability, governance, and transparency which could help fix the trust deficit and efficiency issues which has crippled the energy sector when it comes to promoting and using clean energy.

And this is something the energy companies acknowledge and they have started integrating blockchain to some of their applications.
In this blog, we shall see some of the best energy companies in blockchain  reinventing the wheel  in the energy sector to restore trust and streamline verifiable operations  using it.
Top Energy Companies in blockchain Solving the Crisis in the Energy Sector
Accionia  Introduces Renewable Energy Management using Blockchains 
In comparison to coal, electricity production from renewable energy sources emits 90% to  99% less GreenHouse Gases. As energy production contributes 40% to the global CO2 emission, investors wish to undertake projects that have introduced renewable means to deal with this challenge, in order to remain ESG compliant.
Accionia, a Global Conglomerate has introduced GreenH2chain, which is the world's first platform that uses blockchain technology to track green hydrogen. Through this blockchain powered energy platform, renewable energy management can be streamlined by inspecting, tracking and tracing green-hydrogen value chains in real-time. Using their state-of-the-art technology, the renewable hydrogen energy consumers can  measure, document, and oversee their energy supply's decarbonization process.
In addition to this, they can also track their CO2 emission cutting process which they can use to earn carbon credits and monetize the same on the secondary markets. This project is all set to introduce a green ecosystem in the Islands of Mallorca, Spain, which will be treated as POC to be replicated across other areas on the globe. The future will see more energy companies in blockchain further bolstering this concept.
SIEMENS Energy Trading Platform To Promote Smart-Grids 
With more than 733 million people having no access to affordable, sustainable energy, the need of the hour is to make energy distribution simple. Smart-grids simplify the distribution of excessive energy by overcoming the complex process from power-plant generating electricity, transforming the step-up voltage for transmission, and the transmission lines receiving  the electricity for transmission to consumers to simply consumers supplying the electricity to the smart-grids and monetizing their contribution and customers directly accessing the electricity from such smart-grids through the distribution lines.
SIEMENS, the renowned German tech conglomerate has introduced Pebbles, a Peer-to-Peer energy trading platform. They unveiled their POC back in 2018 and ever since then, many users have been extensively using the Peebles Energy Trading App. A deputy mayor in Günter Mögele village tested the POC  using the app to sell electricity to others, which he excessively produces through his solar farms and other sources. Followed by this, many others in that village started using this for making gains through selling their excessive energy production.
Along with SIEMENS, Litions, as an energy company in blockchain has also spearheaded this campaign with their own P2P energy trading platform to help promote smart-grids and make cheap and clean energy available to all.
Shell Reintroducing SVF  To Cut Global Emissions Using Blockchain 
Aviation fuel is the next elephant in the room that economies are neglecting to acknowledge. With more than 8.2 billion people traveling by airplanes, the core emission levels are going to touch such heights that the aviation sector could be the 10th biggest contributor to air pollution.
It is as huge as a single country and Shell has proposed a partnership with Energy Web using the blockchain technology to track and authenticate those startups and businesses which are using the hydrogen fuels in aviation which have hydrogen elements or termed as Sustainable Aviation Fuel (SVF). Since Hydrogen fuels are less polluting, Shell has partnered with  Accenture, and Amex GBT to launch blockchain-powered digital book-and-claim solutions aimed at amplifying the reach of sustainable aviation fuel (SAF).
The platform tracks and verifies the supply chain for the use of Hydrogen fuels and rewards the consumers for becoming a part of the green initiative. Shell has been instrumental towards introducing more customized blockchain solutions as an energy company in blockchain to fill up the gaps in the energy sector.
Power Ledger Introducing Customizing  In Energy Usage Through Blockchain
Personalization is ending up as a new found concept in the energy sector. Now, what do you mean by that if you ask? Well, lately there has been an influx of new customers as per Mackinsey's research who are looking for customized energy solutions. Now, energy enterprises are facing a status quo with respect to keeping the old customers stick to their brands. An Australian company, 'Power Ledger' has introduced the option of choosing the right renewable energy source as per their preferences. They have used the blockchain technology to help validate the data for the consumers.
So, the customers can now choose which energy source they want like wind, solar or water and accordingly they can buy from the supply. The use of blockchains have simplified verifiability, provenance and tracking. In this way, the customer churning could be mitigated using Power Ledger platform where the customers can quickly verify the source and swap supply from the same platform as and when required as per their preference.
SAP Using Blockchains to Sell New Business Models Through Its identity Initiative
Another key component of the energy sector is to identify key opportunistic trends. Since introduction of blockchain to energy is very new, it becomes very hard for companies in the energy sector to introduce, identify and implement  new concepts to their  advantage.
WIPRO and SAP have joined hands to introduce the GETDS or Green Energy Tracking and Distribution System. As per this program, energy retailers and Distribution Service Organizations have the provision to introduce and sell new business models in the energy sector for prosumers. Under this initiative, WIPRO and SAP will be helping in identifying key business areas which can be harnessed for the growth of the energy sector. They will be forming a duo of  energy Companies in Blockchain to help new ideas and models evolve in the energy sector.
WePower Easing the Roads To Set-Up Clean Energy Production Units
Small players in the energy sectors have to face significant hurdles when they want to enter the green energy market because of funding constraints. However, going by the data, the cost of producing electricity through renewable energy has dipped when compared to fossil fuels. WePower has entered the space since banks have already turned resilient to lending loans to businesses which are looking forward to investment for producing clean/green energy because of subsidy issues.
Through the WePower platform, the company has allowed private investors to fund their green initiative projects and since they are using blockchains, everything remains transparent and verifiable. Furthermore, the investors can claim electricity supply at a fraction of cost in comparison to a traditional supplier when using the WePower ng production unit for electricity.
If you want to explore further on, what more is possible in the energy sector using Blockchain, read this article: Use cases of blockchain in the energy sector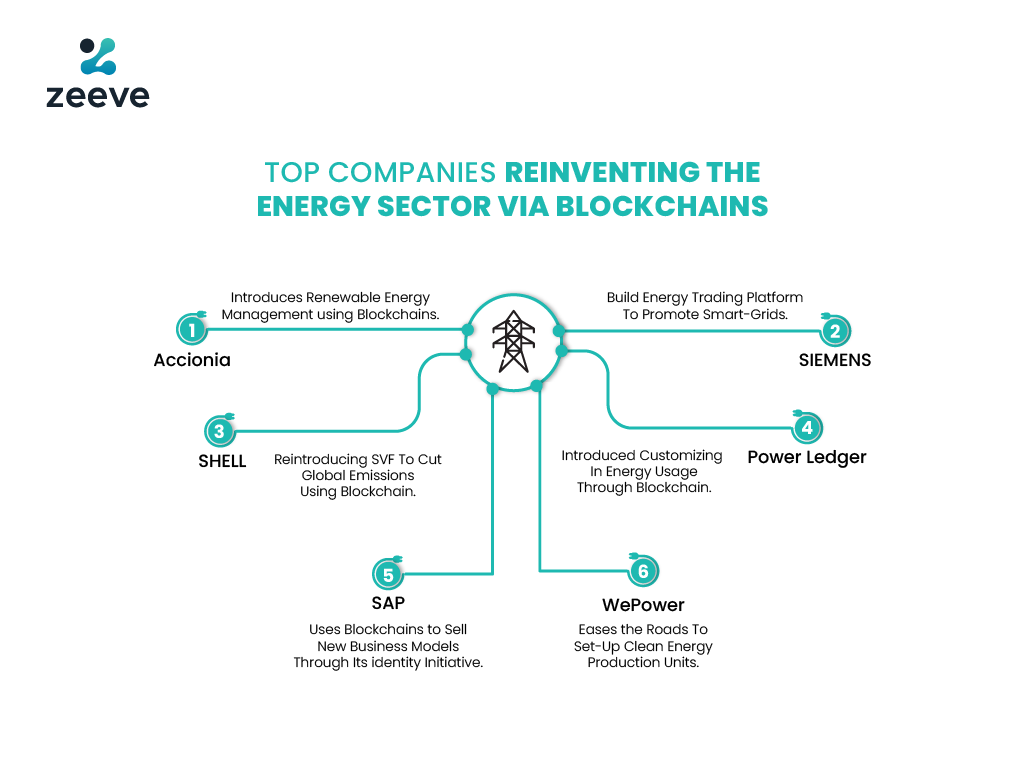 Start Building Your application for the energy sector using Zeeve:
Apart from the 'Energy Web Chain' we have on Zeeve, which is a public blockchain dedicated entirely to energy applications, businesses can leverage Zeeve's Rollups-as-a-service solution to build their own energy-specific blockchains with customization they need in a matter of minutes. You can build a custom Optimistic rollup chain using OP Stack or a zkRollups chain using Polygon CDK with our RaaS solutions.
If you have more questions and want expert help, drop us an email and we're happy to answer you!