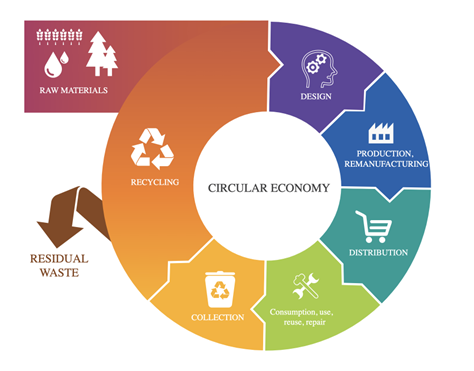 Circular & Regenerative Economies
"There is no waste in nature. When a leaf falls from a tree, it feeds the forest. For billions of years, natural systems have regenerated themselves. Waste is a human invention."
The Ellen MacArthur Foundation. [1]
For years, the 'take-make-waste' linear economy has been heavily extractive, resource-intensive, and produces greenhouse gases (GHGs) contributing to the climate crisis. Companies extract materials from the earth, apply energy and labour to manufacture a product, and sell it to an end-user, who then discards it when it no longer serves its purpose. This linear approach relies on fossil fuels and does not environmentally manage resources such as land, water, and minerals for the long-term, emits GHGs that are causing a global climate crisis."
Solution: The Circular & Regenerative Economy
Circular systems operate as closed loops and enable the continuous use and reuse of resources. The use of raw materials and energy from non-renewable sources is minimized and eliminated. Hence, a circular economy decouples economic growth from resource consumption. [3]
According to The Ellen MacArthur Foundation, the circular economy is based on three pillars: [4] [5]
Design out waste and pollution: What if waste and pollution were not created in the first place?
All negative impacts of economic activities that harm human health and natural systems, such as greenhouse gas emissions, the release of hazardous substances, and the air, soil and water pollution, are detected and eliminated in a circular economy. [5]
Keep products and materials in use: What if we could build an economy that extends the life cycle of products?
A circular economy emphasizes solutions that preserve value. Thus, when a product reaches the end of its life, its materials are kept in the economy whenever possible. These materials are then used productively, again and again, creating added value. [7] This also means eco-design for durability, reuse, remanufacture and recycling to keep products, components and materials in the economic cycle.
Circular systems effectively use biobased materials by promoting many different uses circulating between the economy and natural systems. [4] [5] The circular economy involves sharing, leasing, reusing, repairing, refurbishing, and recycling existing materials and products for as long as possible. One example is the reuse of waste as valuable raw materials in production processes. [7]
Regenerate natural systems: What if we could protect the environment and improve it?
The circular economy is designed from the outset to restore and regenerate. It avoids using non-renewable resources and preserves or enhances renewable resources, for example, by returning valuable nutrients to the soil, promoting regeneration or by using renewable energy instead of relying on fossil fuels.
From a "take-produce-consume-dispose" pattern to a restorative and regenerative economy
The circular economy supports natural processes and leaves more room for nature to thrive. [1] The Ellen MacArthur Foundation has developed the "butterfly diagram" that aims to get to the essence of the circular economy.
By turning our economy from a linear to a circular economy, the focus shifts from extraction to regenerating natural systems. Instead of continually destroying nature, we build natural capital. We adopt agricultural practices that allow nature to rebuild soils, increase biodiversity, and return biological materials to the earth. Most of these materials are lost after use, and croplands are depleted of nutrients. [1]
To find a balance within the earth's bio capacity, the Regenerative Economy is an economic system designed to regenerate its resources rather than deplete and consume them. [8] 5 principles guide it: [9]
Resource use must be as minimal as possible. Everything must be recoverable and valued.
Independence of material extraction is a tendency in the Regenerative Economy.
A regenerative economy is a local economy that promotes interaction between actors. This interaction improves an area's resilience and ability to respond to shocks because the more dynamic an area is with local supply and valuation solutions, the more expertise is available.
A regenerative economy leads to cooperation rather than competition. Collaboration among actors fosters a horizontal collective intelligence where everyone is considered at their actual value. This dynamic enables better dissemination of information, and horizontal collective intelligence provides better adaptation to a complex and unstable environment.
The regenerative economy aims to promote life instead of destroying it through developing products or services that sequester carbon, regenerate soils and biodiversity, and improve air and water quality.
The Regenerative Economy also draws inspiration from nature-based solutions from living ecosystems. Restoring living soils in massive regeneration would reduce our emissions globally, sequester carbon, regenerate biodiversity, and improve yields. [9] Still, more than 100 billion tons of materials enter the world economy each year in our global economy, and only 8.6% is circular. [10] But why, when there are clear opportunities?
Why should we strive for a Circular & Regenerative Economy?
The circular economy focuses on improving sustainability and social responsibility in addition to economic growth. [11] It has many environmental and system-wide benefits. The World Resources Institute (WRI) has outlined five opportunities of a circular economy: [12]
Better use of finite resources.
Better use of natural resources such as air, forests, soil, metals, minerals, and water is essential to the circular economy [12]. In the last fifty years, global material consumption has tripled, from 26.7 billion tons in 1970 to 92.0 billion tons in 2017, and that's not all: the International Resource Panel (IRP) predicts that material consumption will reach 170 to 184 billion tons by 2050, doubling in three decades. [10] Interestingly, natural resource extraction and processing are responsible for more than 90 per cent of global biodiversity loss and water stress impacts, as well as about half of global greenhouse gas emissions. [13]
Reduce emissions.
Although the discourse to address the climate crisis has been focusing on the shift to renewable energy, there has not been much discussion on the 45% of greenhouse gas emissions that occur in the production of cars, clothing, food and other products. [14] To meet climate goals, we also need to focus on GHG emissions. The Ellen MacArthur Foundation paper indicates that applying circular economy strategies could help reduce emissions by at least 40% by 2050, bringing emissions from these sectors 45% closer to their net zero emissions targets. [14]
Protect human health and biodiversity.
Electronic waste (e-waste) is mismanaged and either end up in the natural environment or is disposed of through open burning, landfills, or low-quality recycling. Appropriate use of natural resources (e.g., protecting soil and water) and better handling of products at the end of their life are necessary. Designing products that can be used longer will reduce this kind of waste. Furthermore, creating appropriate collection and processing systems protects workers and the environment from hazardous materials.
Boost economies.
Circular economy business models could minimize material inputs into and outflows from the economic system and play an essential role in leveraging private sector resources and capabilities to transition to a more sustainable economic development. [15] Accenture Strategy's research presented in the Waste to Wealth book indicates that the circular economy could generate an additional $4.5 trillion in economic output by 2030. [16] Circular economy business models that take a different approach will help decouple economic growth and natural resource consumption while increasing competitiveness.
Create more and better jobs.
Six million jobs, viz., recycling, repair, rental, and re-manufacturing, can be created by shifting to a circular economy, substituting the traditional "extract, make, use, and dispose of" economic model. [17]
Therefore, the circular economy contributes to achieving global climate goals. [5] Businesses would benefit significantly by aligning their operations with the circular economy principles. These benefits include creating new profit opportunities, lower costs due to a reduced need for new materials, and closer relationships with customers. [5] The transition to a circular economy could bring benefits such as reducing environmental impact, improving the security of raw material supply chains, increasing competitiveness, promoting innovation, spurring economic growth, and creating jobs.
Achieving a Circular & Regenerative Economy
Transitioning from a linear to a circular economy requires systemic solutions. Business models, product and service design, legislation, accounting practices, urban planning, agricultural practices, material extraction, manufacturing, and more currently have undesirable characteristics from a circular perspective. However, we cannot change just one element of the existing system and expect the necessary transformation. Instead, we should learn to understand how complex systems work because understanding is the first step to creating better solutions. [5]
Critical connections between the Circular & Regenerative Economy and Blockchain
While policy instruments aim to promote good practices and legislation to ensure compliance, the global scale of our production, distribution, and consumption networks makes our complex waste management systems vulnerable to mismanagement and potential corruption. There is a lack of knowledge about what happens to the waste and the potential for them to end up in landfills or incinerators, probably releasing toxic substances into the environment. Designing appropriate mechanisms integrating waste management systems into a global circular economy and ensuring transparency and accountability in monitoring, reporting, and enforcement mechanisms are critical. [3]
Blockchain would be an efficient way to build a more transparent system connecting all the players in a product's value chain and improving performance and communication along supply chains. By linking producers, distributors, and consumers, we can leverage blockchain and ensure accountability for the management of 'waste'. Growing trust in the system will facilitate the transition to a circular economy, reduce waste, and lead to a more sustainable future. [3]
Blockchain technology can also contribute to the circular economy by helping to reduce transaction costs, ensuring the protection of human rights, reducing carbon footprint [11], and measuring impact.
Without knowing what a product is made of, it cannot be recycled; without knowing how it was used, the potential for reuse is also unknown. Critical to optimal reuse and recycling is that information about a product's components and how it was used is shared among the various participants in the supply chain and, after the sale, with the owners. Information is essential for a circular economy. Because of its transparency and traceability, blockchain can be collectively verified, ideal for processes involving multiple organizations. [18]
Other blockchain features that could find application in the circular economy include smart contracts and tokenization. The latter could encourage participants to share data or take some other beneficial action in exchange for a blockchain-specific currency [18] or incentivize sustainable behaviour, while the first offers diverse opportunities for supply chain management.
However, there are many barriers to overcome. A challenge noted by some researchers is that a company that tries to get suppliers and competitors to share information could be viewed with suspicion. In addition, there is a reluctance to create wholly transparent supply chains, which could require companies to divulge sensitive information. [18] Nonetheless, this is a change that needs to happen.
Every opportunity Blockchain offers increases the value of organizations, their products and services. It is important to remember that the technology can go beyond the method of tracking products and making information and the supply chain more transparent. [19] Blockchain creates a whole new way of exchanging value and interconnecting each value exchange, and in the end, the Circular Economy is all about value – economic, environmental, and social.
To discuss circular and regenerative economies with the authors or know more about how blockchain can contribute to sustainable economic growth join us at the iconic Mayflower hotel, this May from 25th -27th. Details below:
Resources:
[1] The Ellen MacArthur Foundation. Circular economy principles: Regenerate nature. Retrieved from: <https://ellenmacarthurfoundation.org/regenerate-nature>
[2] The Ellen MacArthur Foundation (2021). Completing the picture: How the circular economy tackles climate change. Retrieved from: <https://ellenmacarthurfoundation.org/completing-the-picture>
[3] Blockchain & Climate Institute (2021). Blockchain, waste management, and the circular economy. Retrieved from: <https://blockchainclimate.org/blockchain-waste-management-circular-economy/>
[4] The Ellen MacArthur Foundation. Circular economy introduction: What is a circular economy? Retrieved from: <https://ellenmacarthurfoundation.org/topics/circular-economy-introduction/overview>
[5] The Ellen MacArthur Foundation. The circular economy in detail. Retrieved from: <https://archive.ellenmacarthurfoundation.org/explore/the-circular-economy-in-detail>
[6] European Parliament (2015). Circular economy: definition, importance and benefits. Retrieved from: <https://www.europarl.europa.eu/news/en/headlines/economy/20151201STO05603/circular-economy-definition-importance-and-benefits>
[7] World Economic Forum (2022). What is regenerative capitalism and why is it important? Retrieved from: <https://www.weforum.org/agenda/2022/01/regenerative-capitalism-industry-explainer/>
[8] techDetector (2022). Regenerative Economy. Retrieved from: <https://techdetector.de/stories/regenerative-economy>
[9] Circulab (2022). Regenerative and circular economy, what is it? Retrieved from: <https://circulab.com/regenerative-economy-definition/>
[10] Circle Economy (2020). The Circularity Gap Report 2020. Retrieved from: <https://assets.website-files.com/5e185aa4d27bcf348400ed82/5e26ead616b6d1d157ff4293_20200120%20-%20CGR%20Global%20-%20Report%20web%20single%20page%20-%20210x297mm%20-%20compressed.pdf>
[11] Upadhyay, ​​A.; Mukhuty, S.; Kumar, V.; Kazancoglu, Y. 2021. Blockchain technology and the circular economy: Implications for sustainability and social responsibility. Journal of Cleaner Production, Volume 293. doi: https://doi.org/10.1016/j.jclepro.2021.126130.
[12] World Resources Institute (2021). 5 Opportunities of a Circular Economy. Retrieved from: <https://www.wri.org/insights/5-opportunities-circular-economy>
[13] United Nations Environmental Programme (2019). Global Resources Outlook 2019: Natural Resources for the Future We Want. Retrieved from: <https://www.resourcepanel.org/file/1172/download?token=muaePxOQ>
[14] The Ellen MacArthur Foundation (2021). Completing the picture: How the circular economy tackles climate change. Retrieved from: <https://emf.thirdlight.com/link/w750u7vysuy1-5a5i6n/@/preview/1?o>
[15] Galvão, G.; Homrich, A.; Geissdoerfer, M.; Evans, S.; Ferrer, P.; Carvalho, M. (2020). Towards a value stream perspective of circular business models. Resources, Conservation and Recycling, Volume 162. doi: ​​https://doi.org/10.1016/j.resconrec.2020.105060
[16] Accenture (2015). The Circular Economy Could Unlock $4.5 trillion of Economic Growth, Finds New Book by Accenture. Retrieved from: <https://newsroom.accenture.com/news/the-circular-economy-could-unlock-4-5-trillion-of-economic-growth-finds-new-book-by-accenture.htm>
[17] International Labour Organization (ILO) (2018). 24 million jobs to open up in the green economy. Retrieved from: <https://www.ilo.org/global/about-the-ilo/newsroom/news/WCMS_628644>
[18] Tech Monitor (2022). Blockchain may yet prove its worth in the circular economy. Retrieved from: <https://techmonitor.ai/leadership/sustainability/blockchain-may-yet-prove-worth-in-circular-economy>
[19] Ellen MacArthur Foundation (2018). What Is a Blockchain & How Can it Help a Circular Economy? Jessi Baker Discusses | Summit 2018. Retrieved from: <https://www.youtube.com/watch?v=eyH2PFNpxXQ>
Written By
Priya Guliani, UK President GBA and Lead Sustainable Environmental Stewardship
and
Mariana Chapouto Lopes