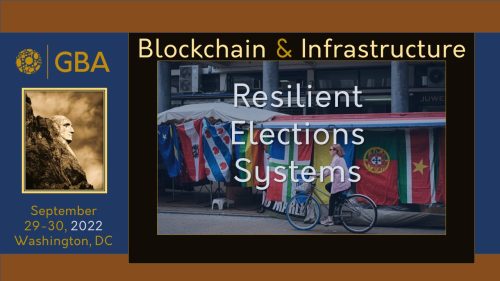 Securing Resilient Elections Systems
Former President Trump claims that the election was stolen from him in 2020. Former Secretary of State Hillary Clinton said that the 2016 election was stolen from her. In 2008, a faithful core of Bernie Sanders supporters were convinced that the Senator was cheated out of the Democratic presidential nomination. Some citizens believe that external forces, such as hostile nations, bots, or hackers have compromised our elections, while others see the corruption coming from the inside. If the voting system in the United States is seen as unreliable, it could become a national security threat.
This fall, the Government Blockchain Association (GBA) will host Blockchain & Infrastructure, live at the National Press Club, September 29-30. https://gbaglobal.org/blockchain-infrastructure/
One of the topics discussed will be Resilient Elections Systems. Part of the infrastructure that holds this nation, and all nations together, are reliable, transparent, immutable, dependable, and trustworthy voting systems. Without resilient elections systems, nations are sitting on crumbling infrastructure.
Can blockchain be part of the solution?
Don't Miss Blockchain & Infrastructure, September 29-30, live at the National Press Club in Washington DC.
Tickets are on sale now. https://gbaglobal.org/blockchain-infrastructure/tickets