Discover the future of blockchain and infrastructure at the highly anticipated Government Blockchain Association conference, themed 'Blockchain and Infrastructure: The Rise of A.I.' Join us in Washington D.C on September 28 and 29, 2023, as we bring together industry leaders, diplomats, and visionaries from around the globe. This groundbreaking event offers unparalleled opportunities to network, engage in thought-provoking discussions, and gain invaluable insights into the transformative potential of blockchain technology and its intersection with artificial intelligence. Be part of this dynamic gathering and shape the future of the digital economy. 
Civil Servant Members attend FREE!
Civil servants can join GBA & attend "Blockchain and Infrustructure: The Rise of A.I" for FREE! (New civil servant member approval can take up to 48 hours & requires the use of gov't issued email)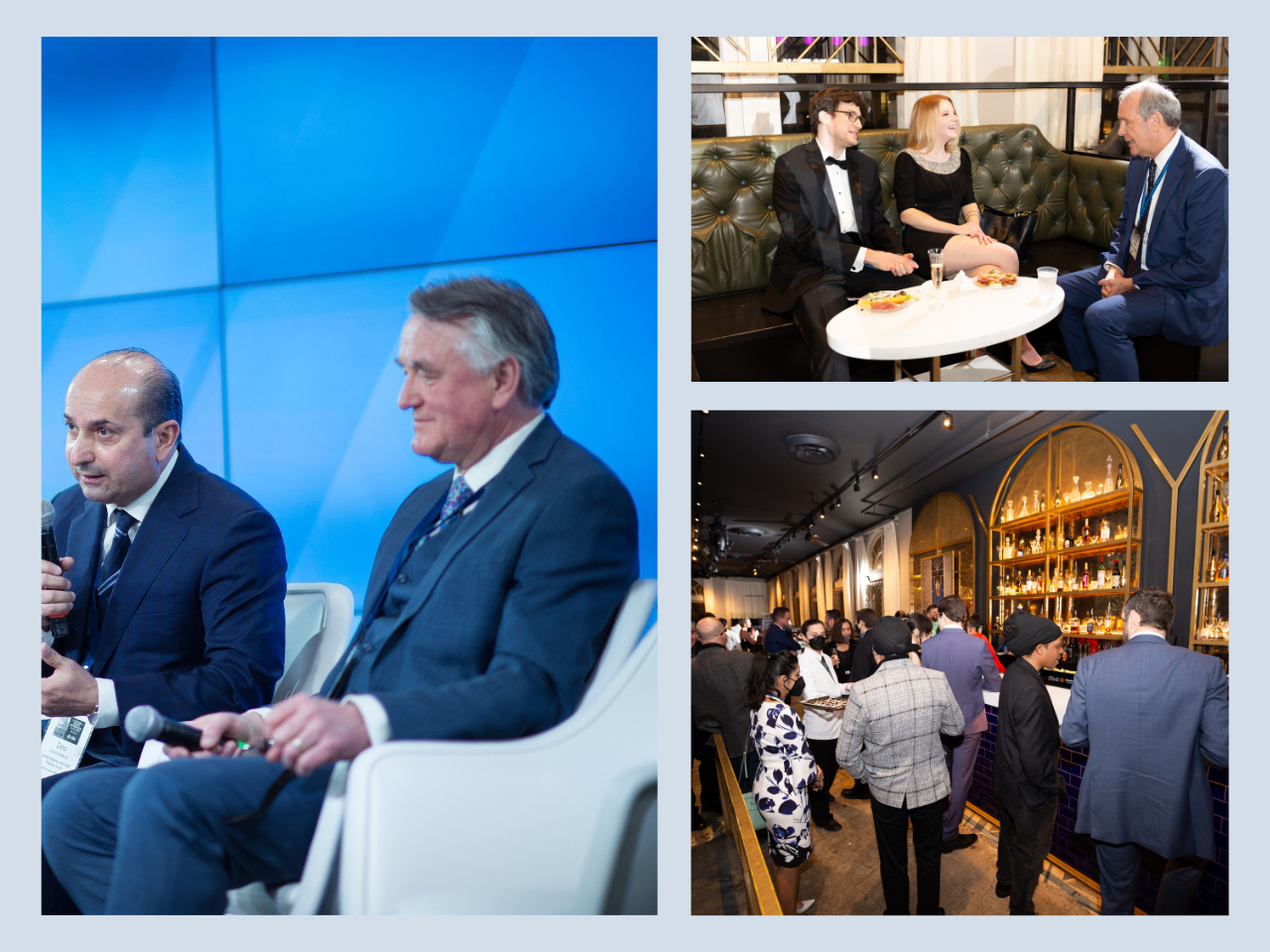 Powerhouse Participants:
Join the Industry Elite!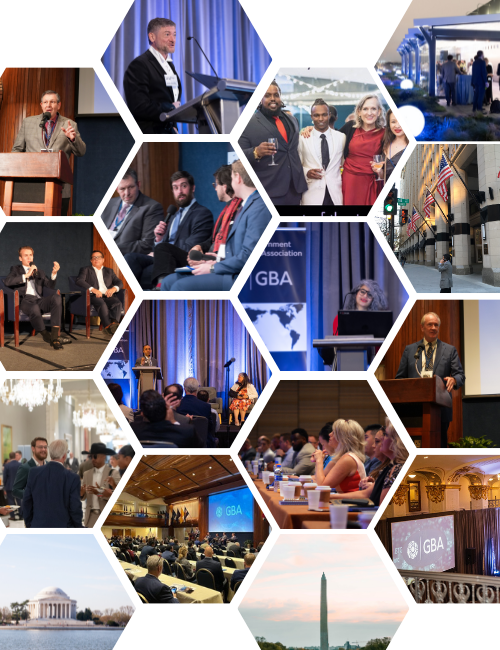 Public Sector
International Organizations
Inter American Development Bank (IADB)
United Nations

Digital Transformation Working Group
Internet Governance Forum
​​​​​​​​​​​​​​​​​​​​​​​​​​​International Telecommunication Union (ITU)
Joint Staff Pension Fund
National Governments
Austria Ministry of Finance
Canada Mortgage & Housing Corporation
India Ministry of Economics
Israeli Ministry of Economics
Liberland
Philippines Ministry of International Trade
Slovenia Ministry of Foreign and European Affairs
South Africa Financial Intelligence Center
United States

Department of Commerce
Department of Defense

Defense Innovation Unit
Defense Logistics Agency
US Army

Department of Treasury

Federal Credit Reporting System (FCRS)
Internal Revenue Service
Office of the Comptroller of the Currency
Office of Financial Research

Federal Aviation Administration (FAA)
Federal Deposit Insurance Corporation (FDIC)
Federal Housing Finance Agency
House of Representatives

Alabama 2nd District
Massachusetts 3rd District
Texas 33rd District

National Aeronautics and Space Administration (NASA)
National Credit Union Administration
National Institutes of Health (NIH)
National Institute of Science & Technology (NIST)
National Science Foundation (NSF)
Securities & Exchange Commission (SEC)
US Government Publishing Office
Veterans Affairs
Costa Rica Local Governments
US State & Local Governments
California

Riverside County, Office of

Colorado

Colorado Innovation Agency
Colorado Town of Erie

District of Columbia

Department of Insurance, Securities, & Banking

Utah

Governor's Blockchain & Digital Task Force
Utah County

Florida Special District
Illinois
Maryland

Maryland Department of Taxation
Montgomery County
Frederick County

New Jersey

Raritan Township Municipal Utilities Authority

Tennessee State Government

 Virginia

Department of Motor Vehicles
Fairfax County
Private Sector
AlphaFin
American Power Net
Aumaan Space & Defense
AXES.ai
Blockchain Ecosystem Advisors
Blockchain Legal Institute
Blockchain for Science
Bufficorn Ventures
Ciphertrace, a Mastercard Company
Clinical Squared
Cogent Law
Crypto Asset Technology (CAT) Labs
Deep Analysis
Delta Strategy Group
DeVOTE DAO
Digital Dollar Project
Digital Web
Doug Sanford Photographs
Equidium Health
ERM
Facil Firm LLC
FEDScoop, CyberScoop
FORMFREE
General Dynamics Information Technology (GDIT)
Graystone Capital Advisors
Guardrail Technologies
Inspired Hacking Solutions, LLC
Intelligent Water Services
Intercoin
Jurat Blockchains
L4S Corporation
Leadingbit Solutions
Marsh McLennan
Medapptic, LLC
Microsoft
Oracle
Perkins Coie LLP
Plato AI Network
Pontovinte Software
Power Meta Corporation
Runonflux
Sciuridae Drey
Showell Ventures & Consulting
Slay Ventures
SOFTHREAD
Solve.Care Foundation
SSAYE CLUB
Swain Techs
The Blockchain Academy
UBTS International Corp.
Vietnam Blockchain Corporation
Voatz
Walacor Corporation
Web3DC
Wintergreen Research
Yeshvik Solutions LLC
Yugen Partners
Non-Govt Organizations (NGOs)
Blockchain Assocation of Cameroon
Boston Blockchain Association
Digital Dollar Project

Global Digital Asset Cryptocurrency Association

Government Blockchain Association
Red Cross
Utah Blockcahin Coalition
Academia
Gardencity Polytechnics, Nigeria
Johns Hopkins
Penn State University

The British University in Dubai

University College, London
Media
Deep Analysis
CyberScoop
FEDScoop
Newsmax
LOG-IN FOR MEMBER PRICING
Not a GBA member? For tickets please fill out the order form below.
Unleash Connections and Collaboration
Experience an exclusive evening reception at the "Blockchain and Infrustructure: The Rise of A.I" conference, designed to foster collaboration, forge connections, and amplify your network. Immerse yourself in a vibrant atmosphere where industry leaders, thought influencers, and passionate blockchain enthusiasts converge. Engage in captivating conversations, exchange groundbreaking ideas, and unleash the power of meaningful collaborations. This unparalleled opportunity awaits, empowering you to be a vital part of the blockchain revolution. Don't miss your chance to network, innovate, and shape the future of this transformative technology.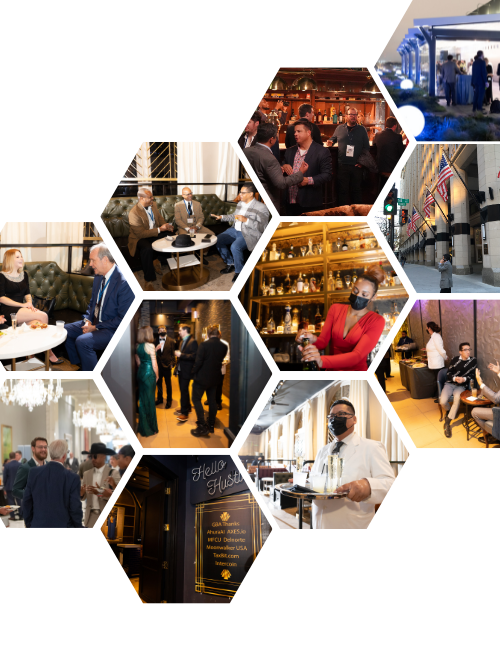 Fuel the Future of Blockchain Innovation - Become a GBA Sponsor Today!
Blockchain & Infrastructure 2022
Blockchain & Infrastructure 2021