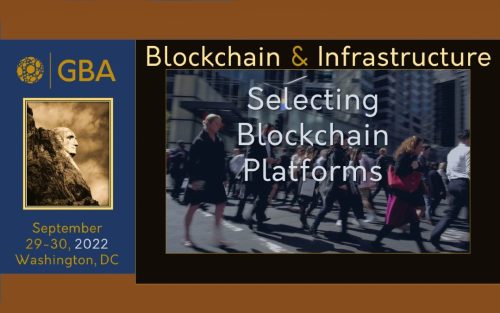 Selecting Blockchain Platforms
Do you have a blockchain platform ready for mass adoption?
This fall, the Government Blockchain Association (GBA) will host Blockchain & Infrastructure, a 2-day conference in Washington DC addressing the infrastructure issues underlying this new technology. One of the panels during the conference will be Selecting Blockchain Platforms.
Representatives from Oracle and IOG (Cardano), along with others, will be sharing their perspectives on how to select a blockchain platform. As the US government moves in the direction of spending $2.6 Billion this year on blockchain solutions, the providers are moving in. This panel has room for a few more GBA members that want to showcase their platform. Volunteer to speak. Attendees will come from Capitol Hill, state and local government, and hundreds of industry leaders interested in blockchain solutions. The international Embassy community of Washington DC will be represented as well.
As blockchain continues on its' current trajectory, the business value will increase to over $360 Billion by 2026, and $3.1 Trillion by 2030.
Blockchain & Infrastructure, Sept 29-30, live at the National Press Club in Washington DC will address the infrastructure underlying blockchain technology. Tickets are on sale now. Sponsorship opportunities are available.
The Government Blockchain Association (GBA) is a non-profit business league that helps the public and private sectors connect, communicate, and collaborate over everything blockchain.