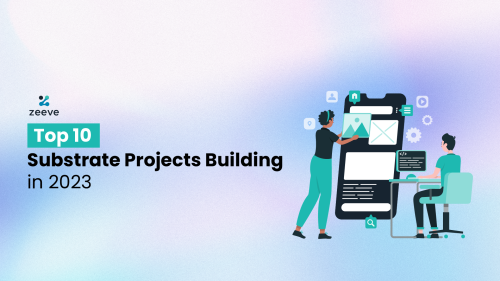 Popular Substrate Projects building in 2023
Substrate– the most advanced, versatile, and multi-chain blockchain framework has been enabling the development of future-proof blockchains and decentralized platforms since 2018. With its ability to remove the hardship of blockchain development by providing customizable modules, pallets, and a range of next-gen dev tools, Substrate has successfully launched more than 150 projects to date. Every project on Substrate has its uniqueness and importance for enterprises.
However, for this article, let's talk about popular Substrate projects in 2023 based on their enterprise-wide application, features, and the analysis done by the popular social network– Polkaverse and the leading blockchain ranking platform- Certik. All these projects are popular across enterprises and developer communities and are viable options for building and investing.

Popular Substrate Projects to Watch in 2023
Polkadot Network
Polkadot Network is the most popular Substrate project in 2023, with 933 projects (for 30 days, changing rapidly) and a live market capital of $6,176,204,000 USD.
The open-source network with its native DOT Token was launched by Web3 Foundation to bypass the interoperability issues of blockchains while enabling connectivity across all kinds of public, permissive & consortium networks.
All the Substrate-based chains are compatible with the Polkadot, which allows a rich and interoperable ecosystem of Parachains, decentralized applications, and services. Polkadot uses NPoS – Nominated Proof-of-Stake consensus to define how validators will participate in the network's consensus and validate blocks.
Enterprises planning to launch their blockchain application can build on Polkadot's powerful, highly secure ecosystem where enterprises can build interoperable blockchains, known as Parachains, that can communicate with each other to exchange data, tokens, and digital assets in a trustless way.
This interoperability of Parachains is enabled through Relay Chain. All the Parachains are connected to Polkadot's base chain— Relay Chain, to achieve high security and interoperability with the rest of the Parachains connected with the Relay chain.
Along with Supporting Substrate-based development, Polkadot offers a range of SDKs, libraries, clients, and developer tools such as Parachain development kits (PDKs), Polkadot-JS API, Polkadot API Cpp, ink!, wallets, explorers, and more. Thereby, Polkadot simplifies the blockchain development process for all levels of web3 developers.
Acala Network
Acala is the next prominent Substrate that has successfully collected $250m aUSD ecosystem funds from top crypto industry players such as Binance, Kraken, Gate.io, and OKX. Acala is a cross-chain DeFi platform and liquidity hub powering web3 finance for Polkadot and beyond. The ecosystem on Acala includes a DEX, Stablecoin network, and liquidity staking platform.
As a building block for DeFi on Polkadot, the Acala network continues to leverage the Relay chain's shared security and consensus while utilizing the interoperability element to enable value transfer across various blockchains running on the Polkadot ecosystem. Thereby, Acala becomes one among the popular Substrate projects in 2023.
The decentralized exchange- DEX integrated into Acala is powered by an automated market model (AMM) that allows users to stake their DOT and earn LDOT. With AMM, Acala is able to provide better liquidity, lower response time and automated trade matching, and much lower fees.
Along with offering a DeFi hub for investors, Acala enables enterprises, brands, and independent web3 developers to build liquidity-rich financial dApps, pallets/runtime modules, Solidity smart contract for dApps, and connect their chain with Acala using Polkadot's cross-chain message passing protocol.
Acala offers a complete set of libraries, tools, and developer resources to simplify the build process. Further, developers can leverage Acala's in-built DEX, DOT liquid staking, and collateralized stablecoin to build highly feasible DeFi applications that are easy to upgrade over time with Acala's forkless upgrades. Having compatibility with both Polkadot and Ethereum, Acala allows developers to build with Acala's EVM using Solidity or natively with Substrate.
Phala Network
Phala Network is yet another popular Substrate project in 2023 with highly reliable decentralized off-chain compute infrastructure that includes 5,881 active computers and 43,596,758.97 $PHA total value assets (TVL).
As a cloud computing decentralized Proof-of-stake network, Phala provides worldwide dApp developers with a reliable and fully trustless off-chain computing infrastructure. In other words, the Phala network bridges the gap between smart contracts and the off-chain world while maintaining unmatched on-chain connectivity. The network is designed to offer industry-leading security through its multiple security layers that provide a consistently verified computation.
The Phala Network team believes that the web3 ecosystem is transforming rapidly, and there needs to be more space for technical limitations. Hence, Phala enables off-chain compilation features in the smart contracts, allowing dApps to better scale and perform on the decentralized landscape. Anyone building a modern dApp or running their smart contract on Ethereum, Substrate, and any ecosystem can connect to the Phala network's off-chain programs– known as Phat Contracts. The integration is to supercharge the smart contracts with cross-chain abilities, integration with the internet, and heavy computation. Phala's Phat contracts also allow for the easy extensibility of smart contracts without requiring a bridge or additional blockchain layer.
Additionally, as a PoS network, Phala allows nodes to stake PHA (the network's native token) and contribute to securing the network. All the active participants are rewarded with PHA for their contribution.
ChainX
ChainX is one of the leading projects built using the Substrate framework with 6,255,613 locked NFTs and 3,673,948 PCX holders. ChainX works as a layer-2 scaling solution for the Bitcoin network built using the Substrate framework to achieve interoperability with Polkadot-based networks. ChainX supports both the custodial and non-custodial approaches for Layer2 networks, which raises the network's demand, allowing it to be counted among popular Substrate projects in 2023.
The custodial model includes version 1.0 and version 2.0, where V1.0 implements the light node + multi-signature custody approach, and V2.0 implements the Threshold Signature custody method. Talking about the non-custodial mode, ChainX implements a new lightning network protocol — X-lighting that offers a really faster and cheaper Bitcoin transaction while enabling greater throughput and retaining the true peer-to-peer nature of Bitcoin blockchain.
Enterprises and web3 developers can leverage the ChainX ecosystem to build their decentralized applications and Layer-2 solutions with benefits like low-cost migration and easy upgradability. Also, the network has familiarity with Ethereum-specific tools such as MetaMask, Remix, Truffle, and Hardhat, along with support for Solidity smart contracts and the users' ability to interact with ChainX using their Ethereum-based account, keys, and other account credentials.
Also read: The Best Enterprise Blockchain Protocols for 2023
ChainLink
Chainlink is an industry-leading Oracle project with over 1 billion data points, securing $75+ billion in value through integrating 1,000 projects with 700 Oracle networks. As a popular Substrate project in 2023, Chainlink is recognized by top industry leaders like AWS and Google Cloud and top companies like AAVE, Synthetix Arbol, and T-Systems MMS, integrating Chainlink into their business processes.
ChainLink is a leading industry-standard decentralized oracle network that allows enterprises to build feature-rich web3 applications that can seamlessly access real-world and off-chain computation data from endless sources. ChainLink bypasses the challenges in smart contracts to fetch or send external data. Chainlink utilizes secure oracles to connect smart contracts to external APIs and access a pool of data from real-world events, external blockchains, and off-chain computation in a highly secure and tamper-resistant manner.
Chainlink offers web3 developers a highly secure and optimized Oracle infrastructure, reliable tools, and an easy-to-use framework that enables quick development of hybrid smart contracts to power scalable and externally-connected decentralized applications on various layer-2 networks. Also, enterprises can leverage Chainlink's Oracle solutions into their existing smart contracts to leverage data, external APIs, and much more.
Moonbeam
Moonbeam is a Substrate-based, Ethereum-compatible smart contract platform that has gained widespread popularity across the enterprise and developer communities. As such, Moonbeam is home to 100+ projects in top categories like DeFi, bridges, APIs & tools, wallets, Oracles, and more. Moreover, Moonbeam's TVL (total value of locked assets) is $42.84M, which is quite high across smart contract projects.
Moonbeam allows developers to re-deploy their Solidity smart contract on the Polkadot ecosystem with minimal configuration changes while eliminating the need to rewrite or refactor the logic. By removing the barriers to entry for Ethereum developers on Polkadot, Moonbeam seeks to expand the Polkadot network's application offerings significantly. Also, developers get access to pre-built integrations for assets/tokens such as DOT and ERC-20, along with popular infrastructure like The Graph and Chainlink.
Developers can connect and interact with Moonbeam both through Ethereum and Substrate API. With Moonbeam, enterprises can build next-gen decentralized applications accessible across multiple blockchain networks. Glimmer (GLMR) and Moonriver (MOVR) are the two different utility tokens of Moonbeam network.
Moonbeam is more than a network for EVM implementation— a highly specialized, advanced Layer-1 blockchain fully compatible with Ethereum's RPCs, keys, accounts, logs, subscriptions, and more. Moonbeam is among the popular Substrate projects in 2023 because of its unique ability to combine the best features of the Substrate and Ethereum ecosystem, offering easy-to-use Ethereum tooling and multi-chain Polkadot architecture.
Energy Web Chain
Energy Web Chain is an innovative Substrate project designed explicitly for energy-sectors application. Energy Web currently has 39 advanced projects running on its ecosystem. These projects are asset management solutions, data exchange solutions, and green proof solutions that are important for energy companies.
Energy Web is a non-profit, publicly accessible, and independent blockchain project built using the Ethereum technology stack in line with the Substrate framework. Energy Web Chain uses the Proof-of-Authority consensus mechanism. Leveraging the cross-chain capabilities from Substrate, the Energy Web promotes interoperability in the energy market, facilitating seamless energy management while allowing enterprises to achieve their decarbonization goals.
Energy Web focuses on developing open-source web3 software for the energy sectors, allowing them to unlock full business value. Energy web allows energy companies and individual web3 developers to leverage blockchain and multiple web3 components such as self-sovereign identities, public blockchains, and decentralized architectures for building advanced, enterprise-grade solutions that reduce overall costs, improve energy efficiency, enhance security across various processes, and grow the business enormously. With all these interesting features, Energy Web Chain is listed among the popular Substrate projects in 2023.
Energy Web offers a complete set of developer stack, including infrastructure, middleware, and SDKs like EW Origin, EW Link, and D3A that allows enterprises to build enterprise-grade solutions seamlessly. The Energy Web Chain ecosystem is further optimized to support novel privacy preservation and permissioning features, enabling highly competitive energy markets to control data access and maintain unparalleled security.
xx Network
xx Network is a leading privacy-focused project among the two projects live on Substrate. The network launched its mainnet on November 16, 2021. Despite being such a new project, xx network already has gained millions of users, turning into a leading social traffic hub. xx  network could gain popularity with their new-age products, including ChainX wallet, Polkawallet for cross-chain asset trading and one-stop asset management platform, and a non-custodial cryptocurrency wallet– ComingChat wallet.
Xx network is a unique quantum-resistant and privacy-focused Layer-1 blockchain for providing unprecedented speed, scalability, and security for layer-2 solutions and decentralized applications building on its ecosystem. Xx network is among the popular Substrate projects in 2023 because it is built using the Substrate framework, which allows the network to seamlessly interoperate with all the Polkadot projects through the most popular private communication network (cMiX). All the applications on xx network are optimized to facilitate thousands of transactions per second while getting 100% protection against cryptography-breaking quantum computing.
xx network utilizes a novel consensus mechanism— xxBFT (also known as xx consensus) to achieve high network performance, low block latency, instant block finality, and constant-sized proofs of finality. xx coin is the native token of the xx network used to incentivize the network participants (rewards) and maintain xx governance.
Listed among the top Substrate projects in 2023, xx network allows enterprises to utilize a build-ready set of libraries like xxDK – go library and Local testnet along with an open-source code base, wallets, explorers, and more to build decentralized applications and custom blockchain.
Unique Network
Unique Network is an excellent and only  NFT project of Substrate. As a next-generation Nominated Proof-of-stake NFT platform for NFT creation, trading, and exchange– Unique Network successfully secured a parachain slot on the Polkadot Network on April 12th, 2022 while raising 822,942 DOT with the backing of more than 5150 network stakeholders. Thereby, Unique Network secures a place among popular Substrate projects in 2023.
UNQ is the native token of Unique that is utilized to pay commissions on the network and perform staking. The Unique network is equally useful for NFT creators, investors, and gaming marketplace developers. Brands and enterprises can utilize the Unique ecosystem to create and launch NFTs that drive customer and community engagement.
Gaming companies can use Unique's advanced in-game economics and a bunch of features like sponsorship pallets, Painless transactions, Layered access management, native NFTs and re-fungible NFTs, transaction scheduling, and more. Talking about the creator community, they can seamlessly mint or collect NFTs and engage in activities like trading and exchange to unlock a new world of NFT possibilities.
On unique, developers have the flexibility to build dApps both on Substrate and Ethereum ecosystems, thereby they get to leverage tools, SDKs, framework, and resources from both the networks in line with the Unique-based dev tools, and resources like Javascript SDKs, NFT solutions, and RPCs. Enterprises building on Unique networks can leverage their native capabilities, cross-chain communication attributes, and unbounded environmental efficiency for more sustainable and forward-looking NFT applications.
GameDAO
Lastly, let's talk about Substrate's next-level crowdfunding and fundraising platform for digital games —- GameDAO. While the protocol went live in 2023, it has been gaining traction from guilds, gamers, game creators, developers, investors, and publishing companies that have been leveraging GameDAO's highly feasible applications— Battlepass, Investor Syndicates, The Storefront, and WASD Gaming Accelerator.
Built on the Substrate framework to function as a Polkadot parachain, GameDAO interacts with various Polkadot projects and serves its purpose. GameDAO provides a platform where gamers, investors, and developers can join collaborative clans (DAOs) and achieve their goal of building better blockchain-based games with the democratic and transparent technology enabled by the GameDAO ecosystem.
GameDAO empowers game developers to create transparent DAOs for fundraising, reducing the need for marketing expertise. You can directly connect with the community of gamers worldwide via simple channels to get valuable feedback on improvement while being able to do alpha and beta testing. The platform incentivizes the gamer community with rewards in tradeable digital assets. Additionally, GameDAO allows for collaborative ownership and governance of funded games, enabling the democratic community to vote on changes and updates. The team comprises tech enthusiasts from diverse backgrounds, providing a supportive environment for game development.
Further, through NFTs, GameDAO addresses the existing challenges of gaming platforms, such as lack of ownership, digital scarcity, and record-keeping of in-game assets. Players on GameDAO can trade digital assets, own in-game assets, and monetize the assets securely.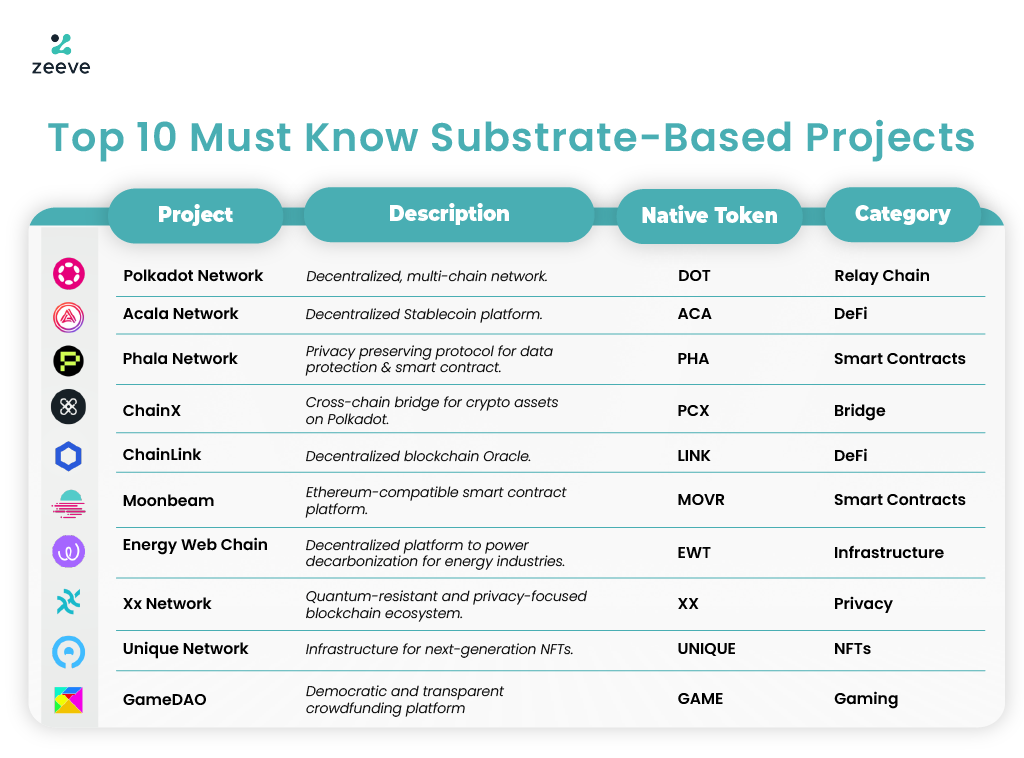 Deploy your Substrate-based project with Zeeve
Zeeve simplifies Substrate-based development with high-end developer tools and ready-to-use plugins. Zeeve provides enterprises with a reliable and highly optimized infrastructure to deploy your projects while offering wizard-based configuration panels, great flexibility, and extensibility options. Enterprises deploying their Substrate project or a project similar to these popular Substrate projects in 2023 can tap Zeeve's real-time ledger data with extended support to subgraph and subquery APIs.
Further, Zeeve provides a reliable, secure, and scalable infrastructure platform for managing all your Substrate nodes and networks. The infrastructure supports custom configurations for Substrate-based developments, including runtime logic, genesis, tokenomics, and collator configurations.  Zeeve also integrates all the essential blockchain components into your network, such as white-labeled explorers, web3 wallets, testnet faucets, etc. We offer high-performance RPC nodes, elastic RPC APIs, and load-balancing features for better performance. Enterprises deploying their Substrate-based AppChain with Zeeve will be granted access to a graphical dashboard that shows real-time network performance and produces real-time alerts in case of trouble.
If you are working on a complex Substrate project or planning to build an independent AppChain, Zeeve has everything in place to simplify your journey. Further, to migrate your dApp from a shared ecosystem to Substrate or any AppChain infrastructure, we have a dedicated DevOps team to remove complexity related to migration and upgrade. For more information on our AppChain services, talk to our experts or schedule a one-to-one demo call today!