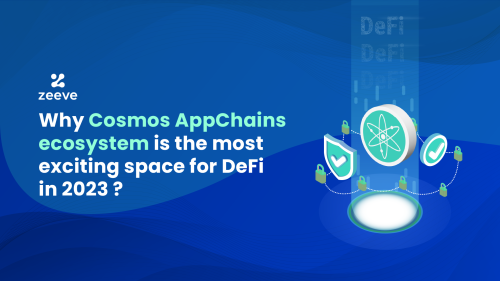 Why Cosmos AppChain ecosystem is the most exciting space for DeFi in 2023
Decentralized finance (DeFi) has revolutionized industries spanning banking, insurance, trading, government institutions, gaming, NFTs, and more. Many innovative DeFi projects have developed so far, and most even scale millions of daily users. Large DeFi projects may face issues while tokenizing real-world assets, authenticating transactions, and handling high volumes of data.
Cosmos AppChains tackles these issues of DeFi by allowing the management of dApps on a standalone blockchain, enabling complete security, scalability, and customizability. This capability makes Cosmos a fast-growing ecosystem, having over $33 billion of TVL (Total Value Locked) across top DeFi projects such as Cronos, Terra, and Osmosis. DyDX– the largest exchange platform, also announced its ecosystem migration to Cosmos-based blockchain to facilitate off-chain order book trading while maintaining speed and performance. Earlier, Sushiswap acquired a Cosmos-based appchain, Vertox.
These stats signify the growing significance of Cosmos AppChains for DeFi projects. Hence, let's dive deeper into the concept of Cosmos AppChains and understand how Cosmos could be an excellent choice for fostering scalability and innovation in DeFi projects.
Briefing AppChains and its importance for Web3 applications
Before we discuss Cosmos AppChains and DeFi, let's briefly talk about AppChain itself since it's a relatively new concept in the web3 space. AppChains are application-specific, standalone chains customized to suit the very specific needs of a dApp. Unlike the general-purpose blockchains sharing their ecosystem with various dApps, AppChains are dedicated to a single dApp, increasing the application's transaction throughput capability while maintaining zero network congestion and latency.
Substrate, Polygon, Avalanche, Cosmos, and BNB are the first pioneers in offering AppChain ecosystems. Although AppChains are a lot beneficial, they are designed to serve larger dApps. For example, dApps record millions of daily active users. Hence, dApps should examine their ecosystem needs before building their own blockchain.

Why enterprises are choosing Cosmos AppChains for DeFi projects?
Every DeFi project is unique; therefore, their requirements for the blockchain ecosystem also differ. Cosmos Appchain ecosystem is yet another option for enterprises to create custom-fitted blockchains that power a single dApp. Enterprises choose to build on the Cosmos ecosystem if that meets their DeFi project's requirements and targeted use cases. Now, Let's understand why Cosmos AppChains for DeFi is becoming the choice of DeFi projects in 2023:
1. DeFi needs more speed to match the TradFi standard:
DeFi projects, for example— a decentralized exchange platform with millions of daily active users, may face the issue of slow transaction processing as they manage the buying, selling, and exchange of digital assets and cryptos in a huge volume daily. In this case, a shared ecosystem cannot serve the required speed and performance. Using Cosmos SDK, DEXs can build an independent chain to manage their dApps individually, leaving no space for competition with other dApps and network congestion due to increasing users and trading volume. Cosmos Appchains for DeFi can adopt Cosmos Tendermint BFT Proof-of-stake consensus that handles up to 1000 TPS, which makes the entire process of DeFi platforms much faster and economical by reducing the gas fee. With Cosmos, the transaction handling capabilities on these projects can be further optimized to achieve even better scalability whenever required.
Most trending use cases: Dydx
Decentralized exchange and crypto-derivative platform– Dydx, recently announced the launch of its V4 as a standalone Cosmos-based blockchain. The motive of Dydx migrating from the Ethereum blockchain to the Cosmos ecosystem and launching a separate chain is to improve in terms of performance, scalability, customizability, and decentralization. To be more specific, the chain will be utilized to feature a 'fully decentralized' off-chain order book changes and a powerful trade matching engine. The existing DYdX platform processes 10 trades per second and 1,000 order places per second, which the new V4 launch aims to increase by nearly 10X for extremely higher throughput, instant block finality, and low gas fees. Furthermore, Dydx seeks to leverage the cross-chain interoperability of IBC to improve inter-chain tradability on the platform. Simply stated, Dydx will become a full-fledged DeFi exchange platform once the V4 mainnet is live.
2. DeFi ecosystem needs to be highly secure for large participation:
DeFi platforms need unparalleled security in their ecosystem to avoid financial losses, hacks, and other security vulnerabilities that can potentially disrupt the whole system. Cosmos AppChains provides DeFi projects with a very secure environment powered with Inter-Chain Security. ICS is inspired by 'Shared Security' in which the exact same number of validators on the main chain (Cosmos Hub) are replicated to validate transactions on the consumer chain (AppChain). This dedicated validator support allows DeFi applications to inherit full security from the Cosmos Hub while validators keep staking their tokens on the parallel chain. Also, the security of Cosmos AppChains is easy to audit and upgrade with no dependency on the underlying virtual machine. All these security benefits allow DeFi projects to maintain security in their ecosystem despite the growing number of traders, investors, and other types of DeFi users.
Example of use cases: Neutron, Stride and more
Neutron, a decentralized protocol for enabling Smart contracts into Cosmos Appchains, is now leveraging the replicated security feature of Cosmos to leverage the existing validator set from Cosmos Hub. Similarly, Stride– the renowned liquid staking provider platform, has confirmed its utilization of ICS from the Cosmos AppChain ecosystem. Both these DeFi projects are now leveraging 10 times more efficient security arrangements with Cosmos.
3. To add specific features to DeFi dApp, you need better customizability:
Customization of the DeFi platform is essential as they have to meet their specific user needs and remain relevant in the industry. For example, a DeFi lending platform keeps its ecosystem open for everyone, but it can choose to keep it limited to specific targeted groups as well, let's say, big corporations. Also, it will customize the gas fee parameters validator requirements or include additional features like off-chain trading, fractional ownership of the assets, or introduce a new token model. Knowing this, Cosmos SDK offers open-source, customizable modules to build application-specific blockchains for your DeFi business. Cosmos's ecosystem of customizable modules keeps on growing and becoming more powerful, enabling businesses to build complex decentralized platforms with complete ease.
Real-world use cases: Provenance Blockchain, Comdex
Provenance blockchain, a decentralized DeFi network, is designed using Cosmos SDK that enables institutions and fintech companies to manage their real-world finance assets on the blockchain ecosystem. Customizability is one of the top 05 reasons why Provenance chose Cosmos Appchain. Using this feature, Provenance builds its blockchain tailored to user needs. For example, Provenance uses 'Groups' and 'Marker' modules of Cosmos SDK version 0.46.0 to make their project highly feasible and more specific.
Similarly, Comdex– the DeFi layer on Cosmos, is utilizing Cosmos SDK's core modules to provide developers with customizable modules to build projects with functionalities such as lending, liquidations, oracles, vaults, assets, and a lot more. This enables quick launch of DeFi products and smoother, faster time-to-market.
4. Nobody wants siloed systems: Inter-chain communication is a must.
Cosmos eliminates the challenge of blockchain's siloed systems interrupting the communication between two parallel chains. Cosmos Appchains enables the creation of DeFi projects that can seamlessly communicate with other projects in the Cosmos ecosystem. To achieve this, Cosmos utilizes IBC— Inter-blockchain communication protocol that enables data authentication and transfer between two unique blockchains built as Cosmos AppChains. DeFi platforms can use the protocol and framework provided by IBC to implement a standardized inter-blockchain communication mechanism into their project, thereby being able to swap tokens, exchange arbitrary data, and other sort of information with all the other AppChains running independently on the Cosmos ecosystem, but are united due to their connection with Cosmos Hub. IBC also eliminates the need for cross-chain blockchain bridges that are prone to security risks; hence, security couples with interoperability.
Example of projects: Osmosis, Mars, etc:
Inter Blockchain technology, or IBC is used by almost every DeFi project on the Cosmos AppChain ecosystem, including Osmosis, Crescent network, Noble, and a lot more. Let's discuss Mars for now as it is utilizing IBC in a unique way. Widely known as the 'Red bank', Mars has over $180 million TVL and has deployed its mainnet to the Comos protocol, facilitating its services via Cosmos' leading decentralized exchange; Osmosis. The project utilizes IBC technology from Cosmos AppChains to allow lending and borrowing of Cosmos-based tokens across all other chains in the Cosmos ecosystem while making significant improvements in its contract-to-contract (C2C) lending.
5. Self-governing, sovereign governance models are key to DeFi Sustainability
Sustainable governance is essential for the long-term success and timely evolution of DeFi platforms. Cosmos AppChains for DeFi offers the creation of a fully decentralized and non-hierarchical governance model in which token holders are granted full participation to propose and vote on crucial decisions related to ecosystem upgrades and improvements. This community-driven approach encourages users on DeFi platforms to participate in structuring the infrastructure and facilities of the DeFi project and adapting to fast-changing industry trends.
Example of use case:
Quicksilver Protocol, the interchain liquid staking platform, utilizes the self-governing model of the Cosmos AppChain ecosystem, implementing an efficient voting system to scale seamlessly. The proposals are accepted in the form of transactions containing all the essential information. Quicksilver explains that building on Cosmos is advantageous as they can use sovereign governance to receive opinions from users of all the connecting chains. And, if Quicksilver was deployed on some other chain, the network would not be easily scalable as they needed a smart contract to support governance on every onboarded chain. With Cosmos, a single governance model works across various chains.
6. DeFi platforms must offer enough liquidity, maintaining stability among users
DeFi projects, whether dealing with cryptocurrency trading, lending, or investment opportunities through decentralized banking systems– must provide enough liquidity on the platform. This ensures that there's always enough currency available to perform various DeFi activities such as offering loans, providing interest on investments, trading & exchange, etc. One viable solution to liquidity issues is the integration of liquidity pools, which replace the centralized entity of the traditional finance system. Cosmos AppChains for DeFi allows for the creation of powerful and advanced liquidity pools that possess different cryptocurrencies, ensuring there's no liquidity shortage while existing processes become smoother. However, it is up to the projects how they want to customize Cosmos' infrastructure and offer specific features.
Popular use case: Persistence 
Persistence is a DeFi Appchain on Cosmos, which is also known as 'Liquid Staking Hub' powering the development of DeFi apps that can unlock the liquidity of users' staked assets. Persistence leverages Cosmos Appchain's highly optimized, liquidity-focused infrastructure to become a one-stop solution for providing users with seamless staking and DeFi experience, meanwhile allowing developers to design novel use cases around Liquid Staking Tokens (LSTs).
7. Other important reason: Dedicated community and developer support
Cosmos allows enterprises and developers to connect with a fast-growing community of innovators, developers, and Web3 experts, enabling the creation of unique and highly valuable DeFi experts. Tutorial videos, developer chat space, official forum, and open-source SDK code are some of the ways DeFi or every other project can educate themselves on getting the most out of the Cosmos AppChain ecosystem. Additionally, Cosmos frequently conducts interactive live workshops and in-person events to offer real-time practices to Web3 developers. Cosmos further provides projects with a full range of developer tools, SDKs, and frameworks that DeFi projects can use to build their single-use blockchain without hassle and complex management. Want to go in-depth into Cosmos Stack for AppChains? Read the detailed guide below:
Digging Deep into the Cosmos Network Stack for Application-specific blockchains
The future of DeFi projects on Cosmos AppChain ecosystem
With growing buzz around  Cosmos' ability to manage complex DeFi projects, Cosmos AppChains for DeFi is set to witness more launches and dApp migration in the future. However, to maintain its relevance in the blockchain space, Cosmos AppChain ecosystem must evolve, catering to the changing project needs. Cosmis is already working on this aspect as it has started to offer advanced features, including Interchain accounts, liquid staking support, and considerable upgrades to NFT support. Simply stated, Cosmos will continue to expand its ecosystem, becoming home to many future-proof DeFi projects.
Knowing this, Zeeve has been offering Appchain development services to all kinds of DeFi and projects in other blockchain domains. We simplify AppChain launch with our low-code deployment platform optimized for performance and resilience. We provide everything you need for a quick AppChain launch, from scalable nodes to wallets, servers, testnet faucets, white-labeled explorers, reliable data indexing protocols like Subgraphs and Subquery, and more— ensuring a seamless launch. If you are planning to launch your Appchain on Cosmos or any other AppChain ecosystem, we are ready to help! Connect with our blockchain experts and discuss your project requirements.