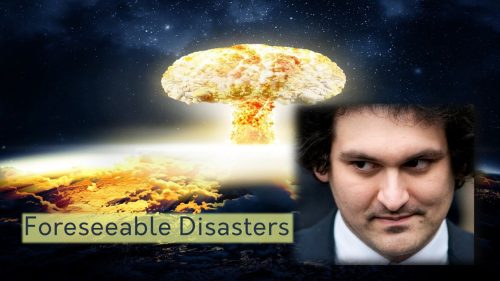 Protection Against Foreseeable Disasters
In an article titled 'Disaster Law and Policy: Accidents Waiting to Happen' the American Bar Association states "natural disasters aren't utterly unforeseeable events". That's great to know because if I can see one coming, I can take shelter and protect myself.
Was the collapse of crypto exchange FTX and the conviction of its former CEO, Sam Bankman-Fried, not an unforeseeable event? Most of FTX's customers did not see it coming, robbing many individuals and organizations of their life savings, much of which will not be recovered.
What happened, and what can be learned from the aftermath?
In the case of FTX, it appears that the core team were liars and embezzlers. Customers were deceived, robbed, and left gaping in amazement. Do you think the customers should have known better? How can one protect themselves from deliberate deception, let alone all the other disasters, accidents, serendipitous choices that have unexpected consequences, and failures in oversight? Can these be foreseen?
In many high-risk situations, a future disaster can be foreseen and prevented by having strictly enforced disaster prevention systems. These are two separate things: Disaster prevention systems, and strict enforcement. One without the other is useless. Just consider the following examples among many:
The Titan Submersible Accident OceanGate ignored warnings from standards bodies inside and outside the company. It was an accident waiting to happen.
The Champlain Towers Collapse- Structural engineers from the National Institute of Standards and Technology (NIST) reportedly found "significant design and construction problems" in the pool deck, "weaker than required by building codes".
Japan's Fukushima Daiichi Nuclear Power Station– Carnegie Endowment for International Peace states "The Fukushima accident was preventable. Had the plant's owner, Tokyo Electric Power Company (TEPCO), and Japan's regulator, the Nuclear and Industrial Safety Agency (NISA), followed international best practices and standards.."
And what about FTX? Weren't they adhering to standards? No, they were not, partially because there were no clear standards for cryptocurrency exchanges. They had no disaster prevention system. Offshore crypto organizations in the Bahamas are unregulated.  "Never get in an unclassed sub. I wouldn't do it, and you shouldn't either." – Robert McCallum, former engineer at OceanGate.
Cryptocurrency, and other digital assets, must have standards and regulations, (disaster prevention systems), and a regulating body that enforces adherence, or they will remain riddled with disaster.
Next spring, (May 1-2, 2024), the Government Blockchain Association (GBA) will host The Future of Money, Governance, and the Law in Washington, DC. This 2-day conference will showcase the Blockchain Maturity Model (BMM) which defines standards for blockchain projects, and digital asset management. The BMM has been endorsed by the United Nations as THE standard for blockchain assurance.  Enforcement is implemented through assessor teams who ensure that best practices are followed.
Do you own or invest in cryptocurrency and digital assets? Then don't miss The Future of Money, Governance, and the Law.  www.gbaglobal.org/fomgl
May 1-2, 2024, Washington, DC.
Tickets are on sale now at Early Bird pricing. https://gbaglobal.org/fomgl/tickets/