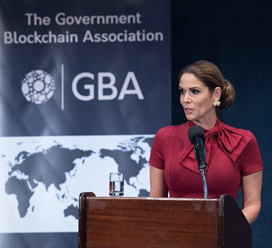 Call for Speakers – Blockchain & Infrastructure
We are still looking for a few speakers to close out our speaker line up for Blockchain & Infrastructure on September 29-30 at the National Press Club in Washington, DC. We have one or two speaking slots available on the following panels.
The State of Infrastructure
The State of Blockchain Technology
Blockchain Infrastructure Use Cases
Funding Blockchain Projects
Selecting Blockchain Platforms (requires sponsorship)
Building & Maturing Blockchain Solutions
Conflict Resilient Supply Chains
Document & Data Integrity
Resilient Election Systems
Resilient Energy & Utility Grids
Resilient & Secure Health Systems
Resilient Transportation Systems
Securing IT Supply Chains
We also have two keynote slots open (requires sponsorship).
Committed Speakers Include:
Brian Cavanaugh, former US National Security Council Member for Presidents Trump & Biden. He was Special Assistant to the President and Senior Director for Resilience Policy, and he was the U.S. Dept of Homeland Security, Executive Director for Strategic Planning, and Integration
Dino Cataldo Dell'Accio, Chief Information Officer at the United Nations. He is the Chairman of the UN Digital Transformation Working Group (coordinates all the CIOs across all UN Programs).
Bill Rockwood, Executive Director of the US House of Representatives Future Forum. He is also the Deputy Legislative Director for Congressman Soto, Co-Chair of the Congressional Blockchain Caucus.
Vilma Mattila, investor in over 60 blockchain companies. One of the projects she co-founded is valued at $2.5 billion. She just raised $100 million for one of her projects.
Barry Johnson, Director of Translational Programs for the US National Science Foundation.
Ingrid Vasiliu-Feltes, National Director WBAF USA Country Office & Senior Senator WBAF. This organization connects top G20 investments with startups seeking funding.
Volunteer to Speak
Any GBA member wishing to volunteer to speak should complete the Speaker Volunteer Form at the bottom of the Conference Speakers Page.