Voatz Rated as a Trusted Blockchain Solution for Elections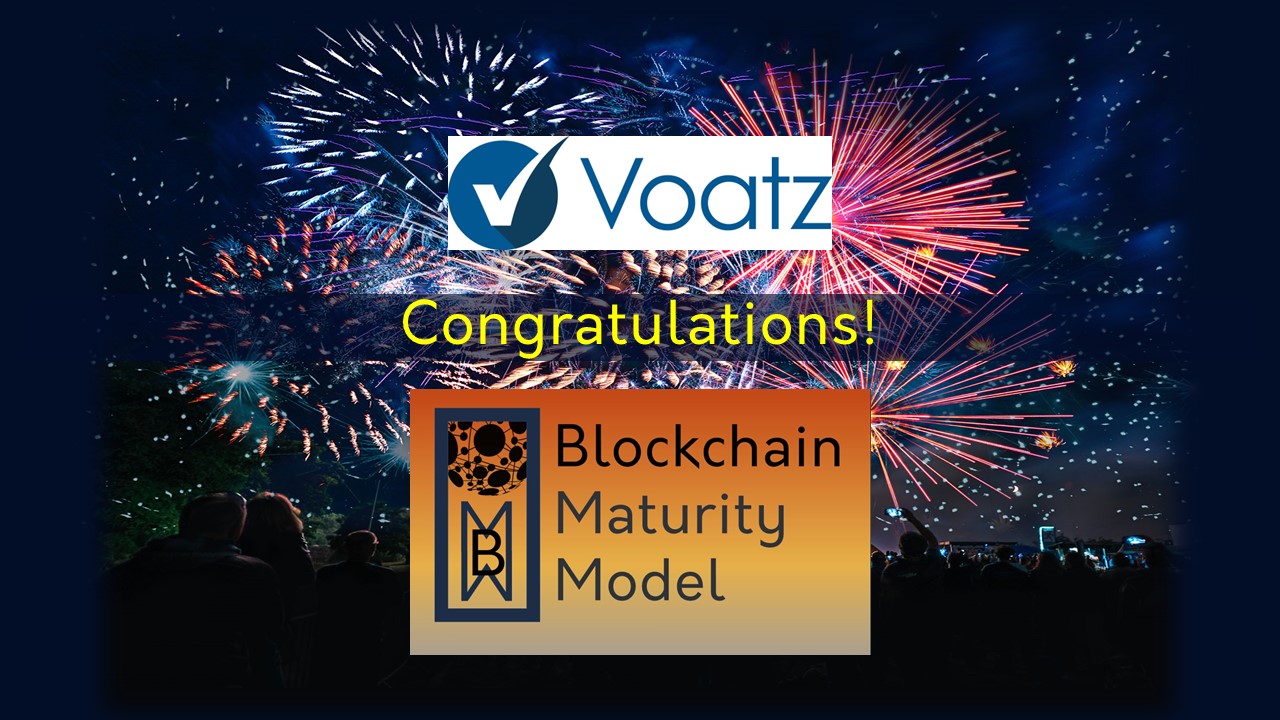 The Government Blockchain Association (GBA) proudly announces that Voatz, a leader in blockchain-based voting technology, has earned the prestigious designation of a Trusted Blockchain Solution after undergoing a rigorous independent assessment using the Blockchain Maturity Model (BMM).
Voatz's Remote Accessible Ballot Delivery, Marking, and Return (RABDMR) blockchain solution has been a game-changer in election processes worldwide, successfully supporting diverse elections, including political party and presidential elections in the United States and abroad. Voatz provides secure and accessible voting options for overseas and voters , leveraging mobile phones and blockchain technology to create a safe and convenient voting experience for these critical demographics.
The assessment of Voatz's RABDMR solution was conducted using the Blockchain Maturity Model (BMM), a framework developed by the Government Blockchain Association and recognized by the United Nations Internet Governance Forum Dynamic Coalition on Blockchain Assurance & Standardization.
Gerard Dache, Executive Director of GBA, lauded Voatz, stating, "Voatz has earned the designation as a trusted blockchain solution because of their steadfast commitment to secure and accessible elections." He added, "Voatz has now joined the ranks of globally recognized trusted blockchain solutions featured on the United Nations Blockchain Assurance & Standardization Dynamic Coalition website."
The assessment was carried out by a panel of senior-level experts specializing in blockchain technology, legal matters, regulatory compliance, and election processes. This team employed a comprehensive framework and a rigorous assessment methodology that evaluates the voting solution from eleven distinct perspectives, including Distribution, Governance, Identity Management, Interoperability, Performance, Privacy, Reliability, Resilience, Security, Infrastructure Sustainability, and Synchronization.
Voatz's dedication to providing secure and inclusive voting solutions has received further validation with this recognition. At a time when election security and accessibility are paramount concerns, Voatz's RABDMR solution shines as a beacon of trustworthiness and innovation in the blockchain-based voting landscape.
For more information about Voatz and its groundbreaking solutions, please visit www.voatz.com.
To learn more about the Blockchain Maturity Model and its applications, visit gbaglobal.org/blockchain-maturity-model.
For additional insights into the United Nations Internet Governance Forum Dynamic Coalition on Blockchain Assurance & Standardization, please visit https://intgovforum.org/en/content/dynamic-coalition-on-blockchain-assurance-and-standardization-dc-bas.