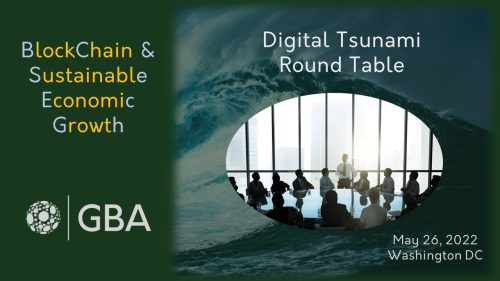 Executive policy makers meet with industry innovators as they discuss the following topic:
Will digital transformation create rumblings of financial, political, and social forces resulting in a tsunami of change? And, if so, what
options do governments have? They can:
Stand on the beach and try to stop the crashing wave or
Grab a surfboard and ride the wave to a new shoreline.
How will governments respond? How should they respond? How can citizens ride the digital transformation tsunami?
On May 26, during the GBA's Blockchain & Sustainable Economic Growth Conference, policy makers from international, national, and local governments will meet with industry innovators and market leaders to discuss blockchain, cryptocurrency, and digital transformation. These leaders will also answer questions from the press including:
CNN
CoinDesk
Inside the IRS and
NPR
Find out what the frontrunners are saying about blockchain and cryptocurrency adoption. Governments must respond to these new realities.
Get your tickets and meet the inventors and pioneers who are leading the digital transformation.
Get Your Tickets
May 25-27, 2022 in Washington, DC at the Mayflower Hotel.