Annual Achievement Awards
 

Nominations for the 2024 Annual Achievement Awards are now open. 
Each year the Government Blockchain Association presents five Annual Achievement Awards in the areas of Leadership, Innovation, Social Impact, Courage, and Organization. These awards are given to individuals who have achieved outcomes that benefit a wider circle of influence than just themselves; they have facilitated a more perfect union between and among governments and the citizens they serve. Their accomplishments have contributed to enhancing justice, and domestic tranquility, and support the common defense of citizens' rights and welfare while securing the blessings of liberty in a free society.
Do you know someone who qualifies? We welcome you to nominate them for one, (or more), of these awards.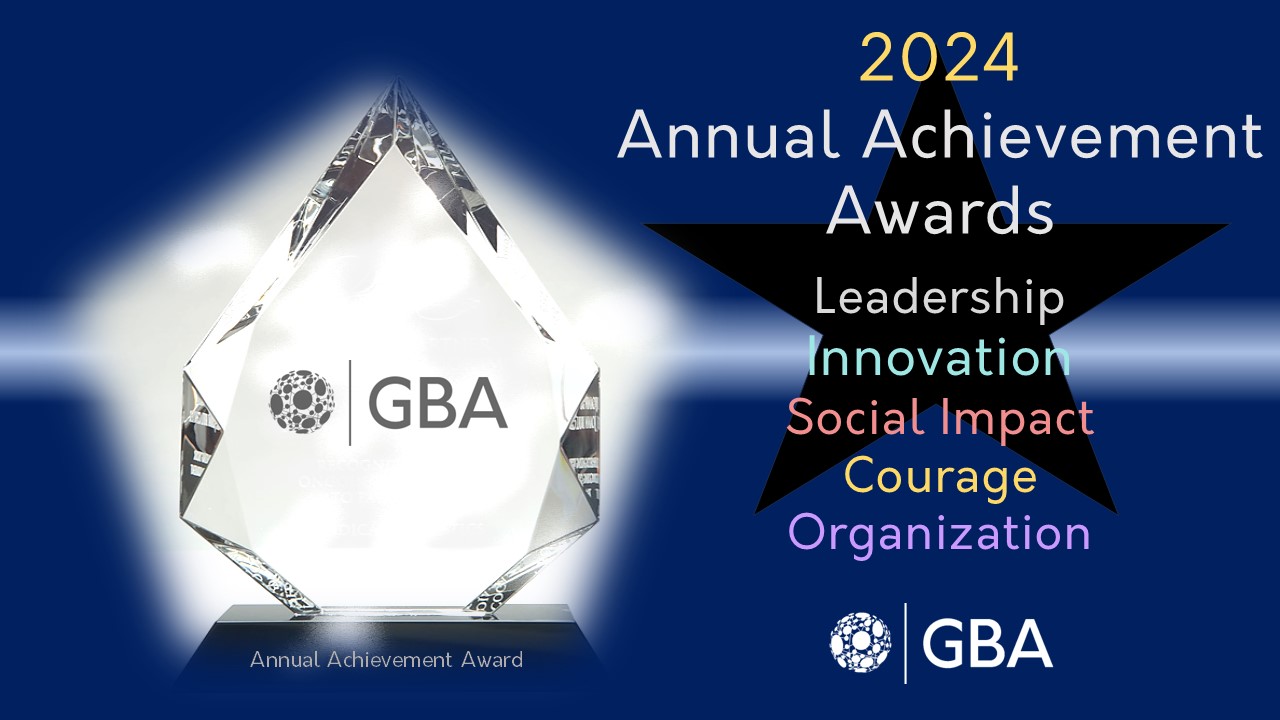 Nominations for the 2024 Annual Achievement Awards are now open
We are excited to announce the submissions phase for the 2024 Annual Achievement Awards is now open. Winners will be announced at The Future of Money, Governance, and the Law in Washington, DC, in May of 2024.
Candidates will be judged based on the specific evidence provided in the nomination form that demonstrates their embodiment of the GBA Ethics Statement.
You will be asked to provide specific examples of what your candidate has achieved and how your candidate has demonstrated that he or she is an example of these values:
Leadership:  How has the candidate used leadership to successfully implement or promote blockchain technology in principle or process? Has the candidate led a team to financial gains as a result of his or her ability to create or sponsor blockchain solutions to solve difficult challenges?  How has this candidate demonstrated the ability to create and implement a vision for their team? Has that vision empowered men and women on their team to become innovators and architects /pioneers of change themselves? This candidate must lead by example and inspire employees and team members to take smart risks to create positive change in their professional lives. Please detail the candidate's leadership achievements and style. How has this candidate leveraged relationships, influenced organizational decisions, and motivated their team to achieve success?
Innovation:  What new innovation(s) has this candidate authored? Innovation requires risk, and risks can yield both successful and unsuccessful outcomes. How has this candidate learned from both outcomes? Please detail how the candidate has provided innovation, or "out of the box" thinking to bring successful blockchain-related results. What will be the impact of this innovation for society, and the world? Has this innovation been brought to the marketplace? Who are the clients or customers for this innovation? Are they satisfied? Give examples.
Social Impact: Please detail how the candidate is an exemplary role model/advocate for social impact in their community or the world. Has this candidate helped others advance in their careers in relation to blockchain technology? If so, specifically how, and what impact has that had on their organizations? What, specifically, has this candidate done to impact their community, society, or the world for the betterment of all? How has this candidate used blockchain for the greater good rather than for personal gain? Who has been impacted most by the actions of this candidate? How have they been impacted? Give specific examples. 
Courage: This candidate has acted with boldness by taking smart risks to advance organizational and personal blockchain goals. How has the candidate shown courage in the face of opposition? What is the candidate fighting for? What have been the results? What is the hoped for outcome of the candidate's courageous stand? What specific examples of courage have you observed in this candidate?
Organization: This team solves challenges, eliminates waste, promotes justice, improves results, and even changes paradigms by using blockchain technology. The organization that qualifies is exceptional in creativity, effective in implementation, and ground-breaking in results. Organizational winners create an atmosphere where individuals can thrive, where the synergy creates a whole that is greater than the sum of its' parts. Winning organizations make an impact that reverberates around the world.
---
Nomination Submittal
Tips for Writing a Nomination
Be clear, specific, and as brief as possible.

Say it like it is. Don't worry about the quality of the writing. Use bullets whenever possible.

Provide concrete examples of exactly what is meritorious about your nominee.

Include measurable results when possible.

When considering accomplishments worthy of nomination, remember that effort and risk-taking may also be award-worthy even if the results were not those originally envisioned.

Feel free to insert points that you believe further commend your nominee for recognition.
---
Qualifications and Restrictions
GBA board members, executives, directors, and their families are excluded from receiving an award.

An individual may nominate themselves and others.

An individual may nominate as many candidates as they desire.

Past winners are not eligible to win the same award twice. However, past winners are eligible to be nominated and win a different award than the one they previously held. Past nominees who did not win are eligible for all awards (unless disqualified for above mentioned reasons).

Anyone may submit a nomination or be submitted. However, at the time of the award selection, only GBA members will be selected. GBA membership is free for all civil servants. non-civil servants may purchase individual and organizational memberships. More information is available on the 

GBA Membership

page on the GBA website.
---
Nominations will only be accepted through this online form below.
Nominees will be notified by email that they have been nominated. When the nominations close in early 2024, three finalists will be chosen for each award by the past winners. After the 3 finalists are chosen, all GBA members (and non-members alike) will be able to vote for their favorite candidate. For additional information about the award program, please contact Robert Levin.