Speaking opportunites available for GBA members.
Register to speak at the bottom of this page.
Speakers Include:
International NGOs
United Nations – Digital Transformation Lead – Dino Cataldo Dell'Accio
European Parliament – Trade & Digital Policy Maker – Stipe Plejic
Digital Currency Monetary Authority – Founder – Darrell Hubbard
Government Blockchain Association (GBA)

Banking & Financial Services Lead – Paul Dowding
Director of Standards& Certification – Meiyappan Masilamani
Director of Training – Eric Guthrie
Middle East & North Africa Regional Lead – Sary Qasim
US Regional Lead – Jerry Berberian

Global Digital Asset & Cryptocurrency Association – CEO – Gabriella Kusz
International Gaming Standards Assoc. – Chairman – Earle Hall
National
Central Bank of Egypt – Payment System Regulator – Ahmed Sayed Mohamed Fakhry (Pending)
US Dept of Justice – Cryptocurrency Coordinator – Kevin Lowell
US Dept of State –

Deputy Assistant Secretary for Acquisition & Senior Procurement – Mike Derrios (Pending)

US Dept of Treasury, Intl Office of Tech. Assistance – Central Bank Advisory – D R Maurice
US House of Representatives – Agriculture Committee Staff – Paul Balzano
US Federal Housing Finance Agency – Deputy Director/Chief Fintech Officer – Jason Cave
US National Credit Union Administration – Vice Chair – Kyle Hauptman
US Veterans Admin, Artificial Intelligence Institute – Program Specialist – Joshua Hakakian
State & Local
New Jersey Blockchain Council – Cofounder – Pramod Attarde
Utah State Digital Innovation & Blockchain Task Force – Member –

Amelia Gardner
Press
Coindesk – Contributor – Ralph Benko
Academic Institutions
Cornell University – FinTech Professor – Dr. Merav Ozair
Georgetown University – Adjunct Professor – William Michael Cunningham
Johns Hopkins University – Professor – Jim Liew
Michigan State University – Senior VP, CFO and Treasurer – Lisa Frace
University of Maryland – Professor/Forensic Accountant – Stacey Ferris
Wake Forest University – FinTech Professor – Dr. Merav Ozair
Commercial
Circle – VP of Global Strategy – Corey Then
Ciphertrace, a Mastercard company – Director of Investigations- Jonelle Still
Coinstructive, Inc. – President – Chris Groshong
Dunsmoor Law – U.S. Securities Attorney – Jonathan Dunsmoor
L4S Corporation – Co-Founder – Paul F. Dowding
Proviniti – Managing Partner – Steve McCaffrey
Rome Blockchain Labs – Co – Founder – Alex Szul
Rubicon Crypto – Co-Founder & CEO – Gregory Johnson
Zeeve – CEO & CoFounder – Dr. Ravi Chamria
5ire.org – Founder – Vilma Mattila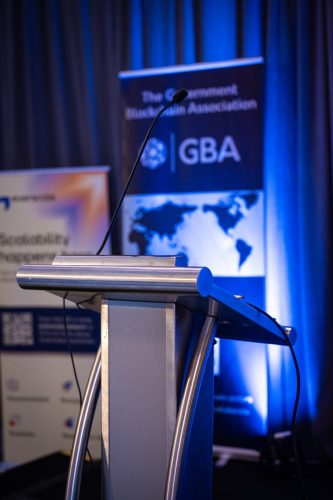 Volunteer to Speak!
GBA Members are Subject Matter Experts and share their insights in front of hundreds of government administrators, legislators, and regulators. Civil Servants can articulate the needs, gaps, and opportunities for possible collaboration.