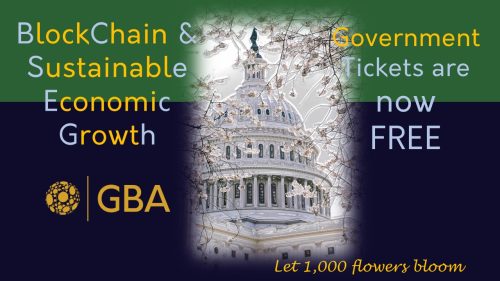 Government Tickets to May Conference now FREE
The Government Tickets for GBA's Conference are now FREE!
I've got some good news. I wanted to let you know that all government employees, who are GBA members, can now get their TICKETS to the Blockchain & Sustainable Economic Growth conference, held at the Mayflower Hotel in Washington, DC, for free. This is a $1399 value! GBA Membership for government employees is also free.
Hotel room discounts are available until Friday, May 6th.
Cryptocurrency, energy, governance, sustainability, and the environment are all on the table. Network with government officials from around the globe and learn from those who are actually deploying blockchain solutions.
And don't miss out on the Blockchain Maturity Model (BMM) or the Smart Contract Workshop training being held during the conference. You will also want to attend the Inventors & Pioneers Reception on Friday night. It is a tribute to the inventors and pioneers of the first and the 4th Industrial Revolution.
Tickets are on sale now.
I hope to see you there,
Gerard Dache
Chief Executive Officer
gerard.dache@GBAglobal.org